Most people love a cocktail, and if you're a floraholic like me, then if it has flowers in it, it's a hit! Let's explore the best Hibiscus Cocktails highlighting the delightful taste of Hibiscus Sabdariffa, a flower that adds a burst of vibrant flavors to our favorite cocktail drinks.
Hibiscus Sabdariffa: What Is It?
Hibiscus Sabdariffa is one of the many edible flowers used for drinks and cocktails. It is part of the hibiscus family and is also known as Roselle and in some parts of the world, it's also called Jamaica Sorrel.
It grows in tropical and subtropical climates with high humidity and is commonly found in Africa, Asia, Australia, and some parts of America. In many of these tropical places, it can be found growing wild.
How To Use Hibiscus Sabdariffa in Hibiscus Cocktails
Although the flower petals and leaves are also edible it is the flower calyx that is the secret behind the delightful hibiscus tea and syrup which is used in Hibiscus Cocktails.
Once the Roselle flower has matured it dies off leaving the calyx surrounding the seed and this is the part of the Roselle that brings us a tangy and slightly tart flavor.
After the calyxes are picked, the little round seed is removed and then the remainder casing is boiled to produce a hibiscus tea or syrup. This is used as the base ingredient for creating interesting and refreshing hibiscus cocktails as well as non-alcoholic drinks.
You can easily make hibiscus tea at home by boiling a handful of Hibiscus sabdariffa calyxes in a small saucepan of water. Bring the water to a boil, then turn off the heat and let the mixture steep for 10-15 minutes. This brings out the tart, cranberry-like flavors, and the wonderful red color. Leave the liquid to cool and then strain to remove the boiled flowers.
This Hibiscus tea is well known for its medicinal benefits and can be consumed straight away. Or just add a spoonful of honey if you find the favor a bit tart.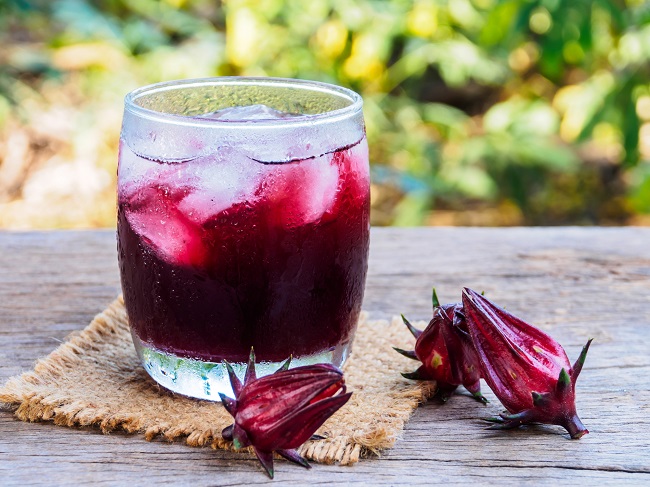 Hibiscus Simple Syrup in Cocktails
Hibiscus Simple Syrup is what we're going to use to bring that wonderful cranberry-like, and slightly tart flavor to our Hibiscus Cocktails.
Using Hibiscus Simple Syrup brings an exotic combination of sweet and tangy to the cocktail combined with the lovely red tinge.
The syrup is very easy to make at home – all you need is a handful of calyxes (dried or fresh) and some water and sugar.
How to Make Homemade Hibiscus Simple Syrup:
The syrup is very easy to make at home – all you need is a handful of calyxes (dried or fresh) and some water and sugar.
1 cup dried or fresh hibiscus flowers
1 cup granulated sugar
1 cup water
Put the hibiscus flowers, sugar, and water into a saucepan.
Bring the mixture to a boil using a medium heat, stirring occasionally until the sugar has all dissolved.
Once it starts boiling, reduce the heat and let the syrup simmer for about 10 minutes.
Take off the heat and let the syrup cool.
Once cool, strain to remove the cooked calyxes.
Store the homemade hibiscus syrup in a sealed jar in the refrigerator where it will keep for a couple of weeks.
Use Hibiscus Syrup to add a delightful and tangy flavor and color to your favorite Hibiscus Cocktails, or mocktails. You can also add it to sparkling water or lemonade for something bright and refreshing. Or even drizzle it over desserts for a burst of flavor. The versatility of hibiscus syrup never fails to amaze me!
Of course, there are days when you may not be able to make your own hibiscus syrup. You can buy jars of Wild Hibiscus flowers in syrup which are available in stores or often online. It's a great convenience without compromising on the fantastic hibiscus flavor.
Dried Roselle is also fine to use and will give you a wonderful bright and tangy liquid.
Hibiscus Margarita is a captivating cocktail and is a delightful twist on the classic margarita that's an all-time favorite.
It draws its appeal from the Hibiscus Sabdariffa calyx which brings its tangy essence and adds a vibrant touch to this cocktail. This infusion of flavors is reminiscent of the tropical climates where this plant thrives and is a delightful combination of tartness and refreshment.
The Hibiscus Margarita artfully marries the tang of hibiscus with the classic appeal of a margarita, crafting a unique and enticing drink that captures the spirit of exotic locations.
Ingredients:
2 oz (60ml) tequila
1 oz (30ml) freshly squeezed lime juice
1 oz (30ml) hibiscus syrup
1/2 oz (15ml) triple sec
Ice
Hibiscus flowers for garnish
Instructions: 
Fill your cocktail shaker with ice, or part fill with crushed ice. The amount of ice you use will depend on your taste as it will dilute your cocktail to a degree.
Pour in the tequila.
Add freshly squeezed lime juice. You can also use lemon juice, but I find the lime has a slightly zestier flavor.
Now it's time for the hibiscus syrup, the ingredient that adds that special touch of sweetness and vibrant color. The amount you put in will again depend on your tase. Give it a try and see how the flavor goes for you. Some like their cocktails sweeter than others.
Then add the triple sec. It's the magical link that ties all the flavors together.
Now it's time to shake, shake, shake! Give it a good shake to blend all the flavors.
Pick a margarita glass, dip the rim in a little lime or lemon juice, rim it with salt, and strain the red mixture into the glass.
Add a hibiscus flower as a garnish to make it look stunning!
The Hibiscus Gin Cocktail is another all-time favorite where the gin provides a gentle flavor base for the hibiscus.
This recipe for Hibiscus Gin Cocktail expertly blends the Hibiscus' tangy essence with the complexity of the elderflower liqueur resulting in a delightful cocktail.
As gin pairs well with most botanicals you can replace the elderflower liqueur with any other botanical liqueur that you may have in your cupboard.
Ingredients:
2 oz (60ml) gin
1 oz (30ml) hibiscus syrup
1/2 oz (15ml) freshly squeezed lemon juice
2 oz (60ml) elderflower liqueur
Ice
Hibiscus flowers or lemon twist for garnish
Instructions:
Start by filling a cocktail shaker with ice or part crushed ice
Add the gin
Next, pour in the hibiscus syrup for a sweet twist.
Then add the lemon juice for a tangy kick.
Last but not the least, add the elderflower liqueur for a fancy touch and mix it all together.
Pour the delicious mixture into your favorite cocktail glass with a hibiscus flower on the top as garnish.
The Hibiscus Vodka Cocktail adds a unique floral twist to your regular vodka cocktails.
The tart flavor of the hibiscus pairs particularly well with ginger, so try this recipe which includes ginger liqueur for a slightly spicy taste.
This version of a Hibiscus Vodka Cocktail skillfully combines the flower's tangy characteristics with the inviting warmth of ginger liqueur, resulting in a genuinely distinctive beverage.
Ingredients:
2 oz (60ml) vodka
1 oz (30ml) hibiscus syrup
1/2 oz (15ml) freshly squeezed lime juice
1 oz (30ml) ginger liqueur
Ice
Hibiscus flowers or slices of crystallized ginger for garnish
Instructions:
Pour your vodka into the cocktail shaker with some ice or crushed ice.
Next up, add the hibiscus syrup for a sweet and tangy twist to our cocktail.
Add the freshly squeezed lime juice—it's the zesty touch that brings a refreshing twist to our drink.
Time to introduce a touch of warmth and spice with the ginger liqueur. It adds a subtle kick that perfectly complements the hibiscus.
Now, shake it like you mean it! Seal the cocktail shaker and give it a good shake to blend all the delightful flavors together.
Grab your favorite cocktail glass and strain the beautiful mixture into it, leaving the ice behind.
Garnish your cocktail with a lovely hibiscus flower or a lime wedge. It adds a touch of beauty to your sipping experience.
Delightful Hibiscus Drinks
When you're making non-alcoholic drinks, incorporating hibiscus syrup or hibiscus tea introduces a special touch. The tangy essence of hibiscus blossoms enriches the flavors and imparts a tangy and revitalizing note to these hibiscus drinks.
Sparkling Hibiscus Lemonade
Nothing beats the refreshing kick of Sparkling Hibiscus Lemonade on a hot day by the pool. This is a non-alcoholic drink so you can enjoy it with your kids as well. Below is my favorite recipe that's perfect for those sunny days of pure relaxation.
Ingredients:
1 cup hibiscus tea cooled
1/2 cup freshly squeezed lemon juice
1/4 cup hibiscus syrup
Sparkling water
Ice
Lemon slices and fresh mint leaves for garnish
Instructions:
Add the freshly squeezed lemon juice to the cooled hibiscus tea.
For sweetness add the hibiscus syrup. The quantity of syrup used will depend on your taste. If you like it a bit sweeter, then add a little more syrup as the hibiscus tea and lemon can sometimes be a bit tart for some palates.
Stir the mixture gently to blend all the flavors together.
Pour in the sparkling water
Fill a tall glass with ice and pour over your sparkling hibiscus lemonade.
Iced Hibiscus Tea Spritzer
The Iced Hibiscus Tea Spritzer is an herbal drink that's just as invigorating as it is delightful. It combines the goodness of hibiscus tea with the effervescence of sparkling water for a refreshing summer thirst quencher
Ingredients: 
1 cup hibiscus tea
Sparkling water
Ice
Fresh lemon slices and mint leaves for garnish
Instructions:
 Add the hibiscus tea and sparkling water together and serve with ice
10 Tips for Making Your Hibiscus Cocktails Special
Here are 10 tips to enhance your Hibiscus Cocktails and to make them something special. Try them when you experiment with your next mixology session, and you'll be on your way to making some fabulous hibiscus cocktails!
Boost your cocktails with creative garnishes like hibiscus flowers or fresh citrus slices.
Presentation is important when wanting to present a special cocktail. Choose unusual glassware to improve the presentation of your Hibiscus Cocktails.
Experiment with additional flavor profiles, such as adding pineapple juice or a hint of spice with cinnamon. Spices will compliment the tart flavor of Hibiscus when used in dark spirits such as rum or bourbon.
Get creative with your garnishes, using herbs such as mint leaves.
Float edible flowers on the top of your drink. Little white begonias have a slight lemony flavor and the color contrast will look great against the pinky red liquid. Other edible flowers such as little star-like pentas florets would also look great.
Freeze hibiscus tea into ice cubes and use instead of normal ice. This will reduce the dilution of the hibiscus flavor from using normal ice.
Make some flower ice cubes to add a touch of elegance and surprise to your glass. As the ice melts the little flowers will pop up to the top.
Try different combinations of spirits to find the perfect match for the tangy hibiscus flavor.
Balance the sweetness and tartness of your cocktails by adjusting the amount of hibiscus syrup and citrus juice.
Don't be afraid to mix hibiscus with other floral or herbal liqueurs for added complexity.
Remember, making the perfect hibiscus cocktails is all about experimenting, having fun, and discovering the combinations that excite your eyes and your taste buds! 
Try out these other fun cocktails:
Buzz Buttons in Cocktail Recipes