How to Garnish Food with Flowers
Garnish food with edible flowers and feel the joy that makes your dish exciting.
We all know that we eat with our eyes first!
There are so many simple ways to combine flowers and food, using edible flowers to garnish or decorate your menu. Eating flowers used to be the domain of a few ritzy and gourmet restaurants but it has now become very popular. Flowers are now widely used in local cafes, and with cake makers and home cooks. Cooking with flowers is increasing in popularity, although my personal choice is to eat flowers in the raw state where the beauty of the flower is intact.
Flowers just add that special visual impact that can sometimes be hard to achieve. I love seeing the delight on people's faces when they first see the colour and beauty of a flower on their plate.
Use edible flowers to decorate cakes as well as plates of food.
Be creative with floral garnishing
Try putting some nasturtium flowers in your next salad, and include some of the leaves for an extra peppery taste. The contrast in shape and texture of the leaf will add to the interesting visual effect. 
Or jazz up a pasta dish with some bright marigold or calendula petals and a couple of pink chive flowers.  
Daylilies have a fresh, crisp iceberg lettuce type flavour and make a fun and unusual hors d'oeuvres. Snip off the stamens from the centre of the flower and stuff with herbed cream cheese. Or for a sweet delicacy you can stuff the centers with a sweetened mascapone and cream cheese mix. Simply delicious and they look fabulous.
I usually allow part of my herb patch to go to flower. I then use the flowers on a sprig of rosemary or parsley flowers to add both flavour and a delightful floral garnish to savoury plates.
You can see the visual difference below between garnish or no garnish
A splash of colour has just brought this plate to life!
Give it a go, you'll be surprised at how easy it is to achieve such a fabulous lift to your plate.
These nasturtiums and chives were grown in our garden, and to be able to pop outside and pick a quick garnish for a plate gave me a great deal of satisfaction!
Its a great way to impress your guests if you're entertaining too!
Decorating desserts using edible flowers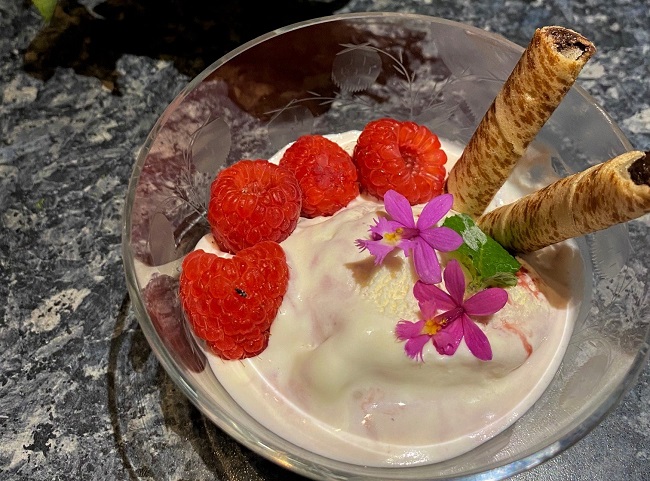 Dessert dishes, such as the simple ice cream scoop can be glamourised and made appealing by the addition of a couple of small petals or flowers.
A scoop of boring ice cream suddenly becomes special and different by dropping in a little crucifix orchid, or a pelargonium flower, or some petite pink begonias.
Pansies, snapdragons, cornflowers, impatiens, marigolds, and little miniature roses (which are one of my most favourites) are some flowers that I have in my garden. These are fabulous on cakes and desserts. Little violas make a delightful addition to fruit salad.
Delicious and stunning edible flowers for garnish
Put some glamour into a lack lustre plate of food and just garnish with edible flowers. When you have finished putting the salad together, add a couple of flowers on the top to jazz it up a bit.
Be careful with some flower flavours though. Flowers from the Allium family, such as chive flowers, society garlic and garlic chives have a strong flavour, and so are better in savoury dishes. They are excellent in salads, pasta dishes, potato salad, and stir fries.
Beautiful little blue star-like borage flowers with their cucumber-like flavour are also excellent in salads. Also very good as decorative dessert garnish.
More stunning ways to use common edible flowers as garnish
Violas are such cute little pops of colour, and because they have a bland flavour, can be used in many types of ways. There is a vast variety of sizes and colours in these flowers which make them so interesting and easy to use. They can be used equally well in savoury or sweet dishes.
Try adding them to a fruit salad,
or on the top of a cup cake
in a bowl of yogurt
you use them in a green salad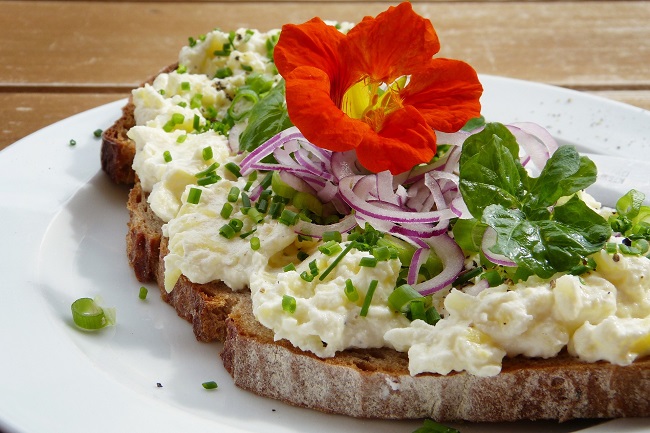 Nasturtiums have a watercress like flavour and so complement a salad very well. The leaves are also edible and can be used as an alternative salad leaf. It adds a lovely contrast in texture and leaf shape. Also collect the little seed nodules, and use as an alternative to capers.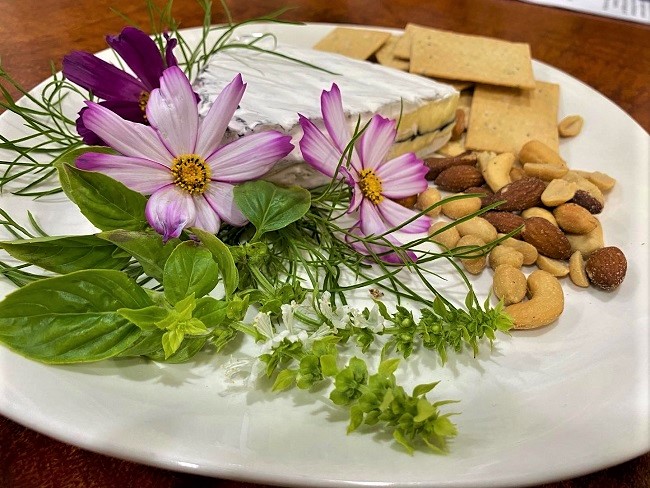 Cosmos, with it's wonderfully decadent bright pink petals, brings an eye catching addition to a cheese platter. The whole flower makes a statement when used as a garnish, and the feathery leaf looks fabulous as a plating garnish.
If the intention is to eat the flower, rather than use just as a garnish, then sometimes it's better to use the petals only, as the stigma and stamens are bulky and tend to be pollen laden.
Although edible, bulky flowers are not always palatable. Use them as a garnish nevertheless!
Although edible, bulky flowers are not always palatable. Use them as a garnish nevertheless, as it would be a missed opportunity not to take advantage of their bright and exciting visual appeal.
Garnishing savoury dishes and platters with marigolds or herb flowers. Rosemary, basil, parsley and mint are all very commonly grown in the garden and have sweet little flowers which add visual interest to the plate or platter.
Potato salad is a dish that lends itself to decoration with chive flowers, giving it an extra subtle oniony flavour.
Pasta dishes also. Sprinkle marigold petals onto the dish just before serving.
Get creative and try doing some edible art!
If you're entertaining, doing some simple edible art will get a wow factor reaction from your guests?
Spread cream cheese onto a flat surface and then sprinkle and arrange your herbs and edible flowers.
Your guests are then faced with this gorgeous unusual sight of a meadow like scene on a platter which they can spread onto herbed bread or gourmet crackers.
Try making a Focaccia Garden. These can be very beautiful, although the baking of the flowers kills the intensity of the colours.
I by far prefer the vibrant colours of the unbaked flowers, and you can maintain the colours by creating your garden scene just after taking the baked focaccia out of the oven.
Make little creations mixing flowers with fruit or herbs.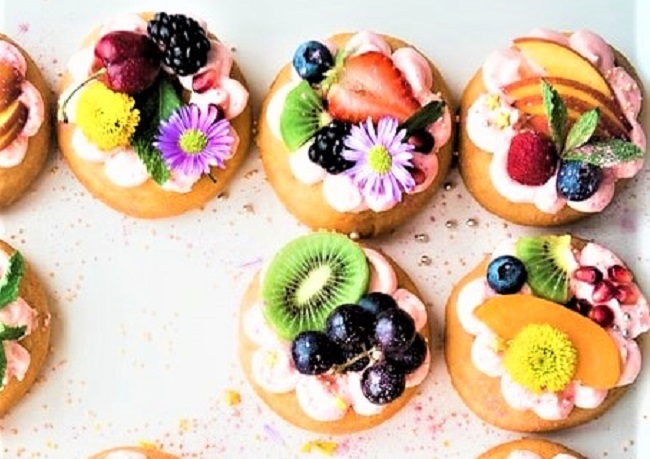 Try doing some canapes with a floral garnish such as a cracker with cream cheese and topped with a small flower. Use flowers such as dianthus, begonia, small daisies or marigold or cornflower petals.
The options are endless.
Encourage that creativity within you to experiment with any edible flowers you have available.