How to Garnish Food with Edible Flowers
Using Edible Flowers for Garnish adds a unique and exciting touch to your dish.
Using edible flowers for garnish is a versatile and visually stunning way to add flavor, colour and a touch of elegance to any dish and it's very easy to achieve!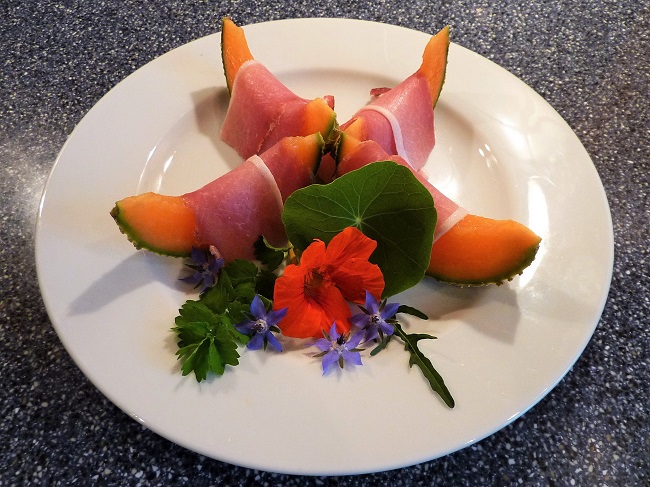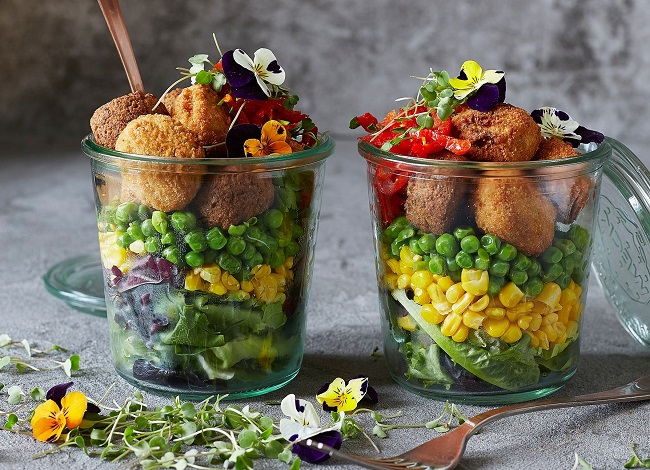 We all know that we eat with our eyes first!
The beauty of edible flower garnishes is that they are flowers you can eat raw. Preserve the natural beauty for visual effect and experience the flavor and texture of a real flower.
Using edible flowers for garnish gives a special visual impact that can sometimes be hard to achieve. I love seeing the delight on people's faces when they first see the colour and beauty of a flower on their plate.
Eating flowers was once the domain of a few ritzy and gourmet restaurants, but it has recently gained popularity. Flowers are now frequently used in local cafes, as well as by cake makers and home cooks.
Cooking with flowers is becoming more popular, but I prefer to eat flowers raw, where the beauty of the flower is preserved.
All flowers that are put on your plate should be edible. If they're not, then they should not be put near food!
Be creative with edible flowers for garnishing
You can see the difference below between garnish and no garnish.
A splash of colour has just brought this plate to life!
Give it a go, you'll be surprised at how easy it is to achieve such a fabulous lift to your plate.
These nasturtiums and chives were grown in our garden, and to be able to pop outside and pick a quick garnish for a plate gave me a great deal of satisfaction!
Using edible flowers for garnishing is a great way to impress your guests if you're entertaining too!
Put some glamour into a lack lustre plate of food and just garnish with edible flowers. When you have finished putting the salad together, add a couple of flowers on the top to jazz it up a bit.
Be careful with some flower flavours though.
Flowers from the Allium family, such as chive flowers, society garlic and garlic chives have a strong flavour, and so are better in savoury dishes. They are excellent in salads, pasta dishes, potato salad, and stir fries.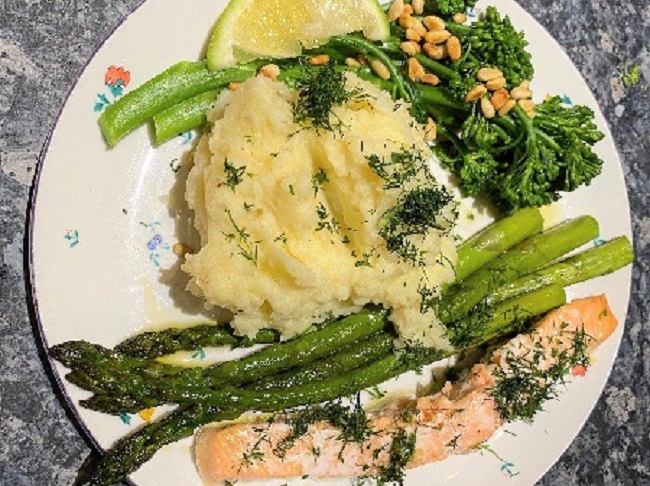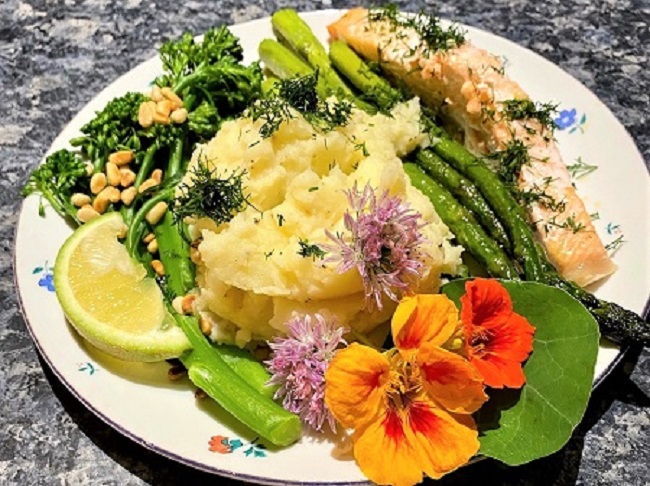 Best Edible Flowers for Savoury dishes
Here are a couple of suggestions to get you going but you can honestly use whatever edible flowers you have available, to decorate something coming out of your kitchen!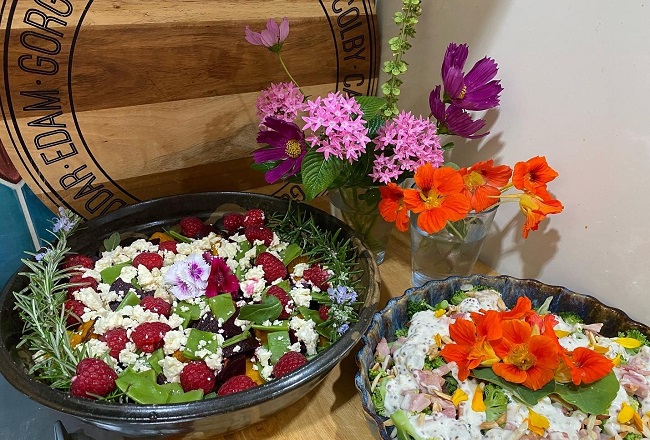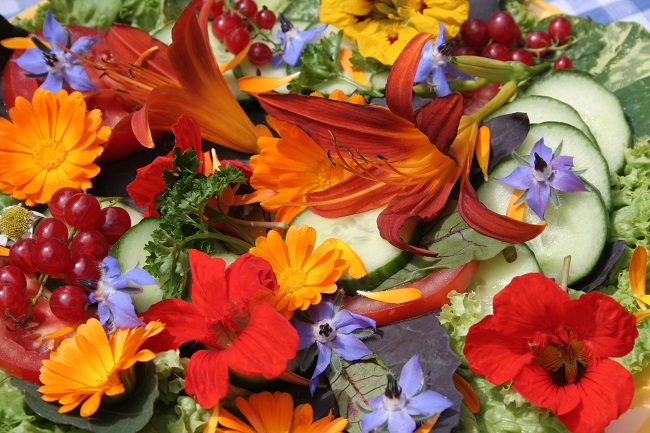 A salad these days is probably one of the most versatile and diverse dishes you can make. Anything goes in a salad if you are consistent with the look and flavours you are wanting to create.
It's no longer the standard green leaves, a slice or two of cucumber and some tomato! You can add all sorts of fruit, nuts, leaves, and even edible flowers for salads!
Try putting some nasturtium flowers in your next salad, and include some of the leaves for an extra peppery taste. The contrast in shape and texture of the leaf will add an interesting dimension.
Click here to find out all you need to know about nasturtiums and how to use them.
Chicory flowers also make a good salad ingredient giving it a bitter herby flavour.
Salvias are also great in salads. Pineapple salvia is quite fruity, and the blue salvia is more spicy. So, depending on what type of salad you're making you can add in a few of these to add some bright colours.
Make a colourful statement by adding tulip petals to your salad and mix in with the salad leaves. You can use daylilies, rose petals or sunflower petals in the same way.
Borage with its subtle cucumber flavour and calendulas also will brighten up a salad.
Rosemary or parsley flowers are paired well with roast pumpkin salads.
Marigolds and chive flowers will compliment potato and cous cous dishes.
I often let part of my herb garden go to flower so that I can use them to add both flavour and a delightful floral garnish to savoury plates.
Add an extra sprinkle of colour to a pasta dish by putting some bright marigold, calendula petals over the top. The centers of these flowers can be bitter, so pull off and use the petals only. If the intention is to use the edible flower for garnish only, then you can use the whole flower.
You can also use pink chive flowers or society garlic. The aromatic flavours will add something subtly different to the flavour depending on what type of pasta dish you've created. 
Begonia flowers can be used in fish dishes as they have a soft lemony soft crunch which is subtle and goes really well with white fish.
Angelica, with its soft celery like flavor is good paired with fish too.
Ginger, both Galangal and Torch compliment fish dishes nicely.
Snacks - Stuffed flowers as finger food
Daylilies have a fresh, crisp iceberg lettuce type flavour and make a fun and unusual hors d'oeuvres.
Snip off the stamens from the centre of the flower and stuff with herbed whipped cream cheese.
You can use the same recipe to fill nasturtiums, Chinese lantern, holly hocks or gladioli. Simply delicious and they look fabulous.
Or for a sweet delicacy you can stuff the centres with a sweetened mascarpone and cream cheese mix.
Decorate sandwiches by putting some small borage flowers on the top of sandwiches, or decorate a platter with these bright blue starlike flowers. Borage has a subtle cucumber flavour so will be very good with cucumber sandwiches!
Look what a difference a little cleverly placed flower will make to the overall appearance of a small hors d'oeurvre or appetizer.
Your food will get a reputation for being classy and innovative!
Fuchsia flowers are particularly stunning and come in a variety of colours. They have a beauty that will enhance any simple looking dish.
Pick a flower that compliments the dish in both flavour and colour. 
Vietnamese spring rolls will look stunningly elegant by including some flowers with the filling.
Layer different coloured begonia flowers on the wrapper before placing on the filling and rolling up. The pretty flowers will show through the translucent wrapper and makes a stunning picture.
Using edible flowers for garnish will upgrade the presentation of your dish to something special and interesting.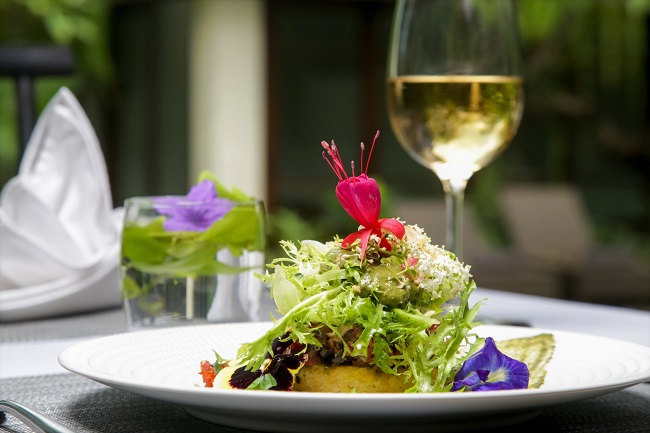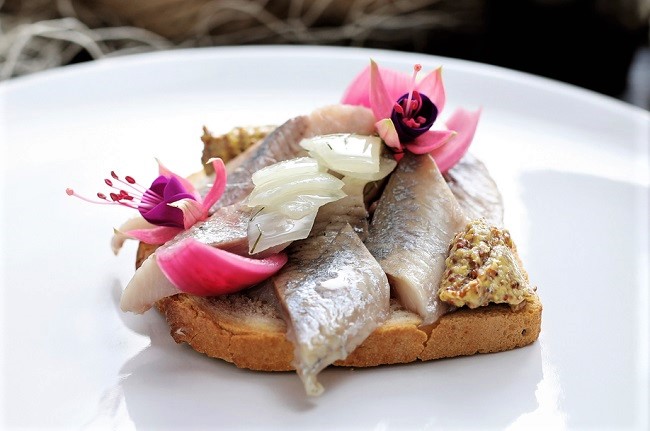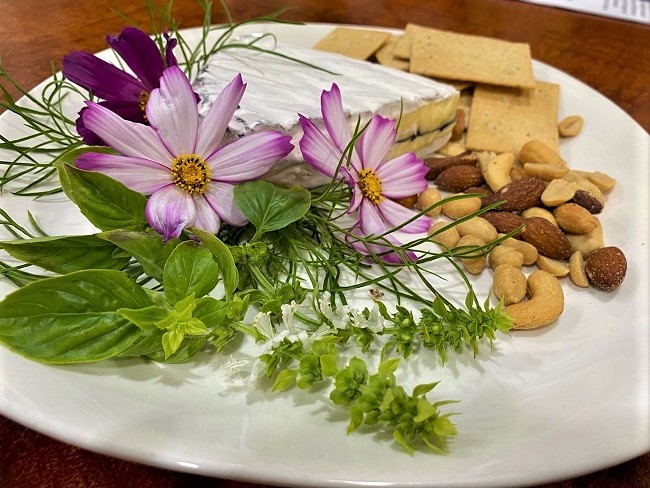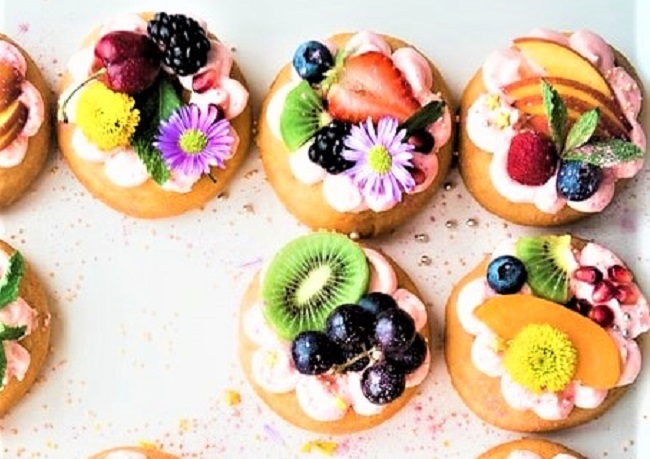 Cheese Platters and Charcuterie Boards
Cosmos, with it's wonderfully decadent bright pink petals, brings an eye catching addition to a cheese platter. The whole flower makes a statement when used as a garnish, and the feathery leaf looks fabulous as a plating garnish.
If the intention is to eat the flower, rather than use just as a garnish, then use the petals only, as the stigma and stamens are bulky and tend to be pollen laden.
Although edible, bulky flowers are not always palatable. Use them as a garnish nevertheless, as it would be a missed opportunity not to take advantage of their bright and exciting visual appeal.
Try doing some canapes with edible flowers for garnish, such as a cracker with cream cheese and topped with a small flower. Use flowers such as dianthus, begonia, chamomile or Mexican tarragon or cornflower petals.
Best Edible Flowers for Dessert dishes
Many flowers don't have a strong flavour and so can be used with most dessert dishes. Obviously those with a strong flavour such as chive, society garlic, and many herbs would not compliment the dessert. So steer clear of these strong flavours more associated with savoury plates.
Ice Cream and Fruit Salad
Dessert dishes, such as the simple ice cream scoop can be glamourised and made appealing by the addition of a couple of small petals or flowers.
Bee Balm, with its bright scarlet petals will make a plain looking pannecotta look exciting and interesting. Simply sprinkle some petals over the top. Or add it to a fruit salad. It goes particularly well with water melon and strawberries
A scoop of boring ice cream suddenly becomes special and different by dropping in a little crucifix orchid, or a pelargonium flower, or some extravagant looking fuchsias.
Little violas make a delightful addition to fruit salad. Also pentas, and wishbone flowers (Torenia fournieri).
Cheesecakes and Other Desserts
Decorate dessert plates of mousse, yogurt or cheesecakes with Pansies, snapdragons, cornflowers, impatiens, marigolds, and little miniature roses (which are one of my most favourites) are some flowers that I have in my garden. These are fabulous on cakes and desserts
Flowers with sweet nectar such as honeysuckle work well with desserts too.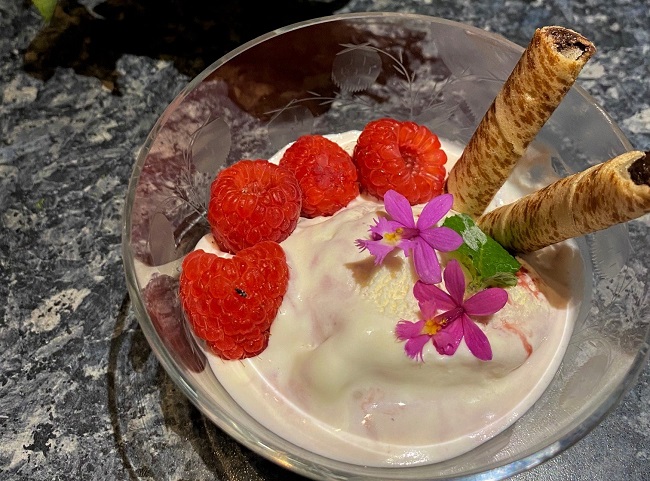 Get Creative and try doing some Edible Art!
If you're entertaining, doing some simple edible art will get a wow factor reaction from your guests!
Spread cream cheese onto a flat surface and then sprinkle and arrange your herbs and edible flowers.
Your guests are then faced with this gorgeous unusual sight of a meadow like scene on a platter which they can spread onto herbed bread or gourmet crackers.
Try making a Focaccia Garden. These can be very beautiful, although the baking of the flowers kills the intensity of the colours.
You can maintain the colours by creating your garden scene just after taking the baked focaccia out of the oven.
Where to buy edible flowers for garnishing
Many organic edible flower growers take online orders, some of which can be found on this guide to organic edible flower growers in Australia.
If you can't grow your own edible flowers for garnishing, then there are several places you can look. Your local farmers markets may have a supplier or often a local independent grocer will sell punnets of locally grown edible flowers. Also Instagram can be a good place to source growers.