Where to Buy Fresh Edible Flowers - Brisbane, Scenic Rim QLD
Are you looking to buy fresh edible flowers for cocktails or drinks? Or you want some to decorate your cakes? After trying to locate a supplier or edible flower farm to buy edible flowers in Brisbane, my research turned up a rural property just one hour drive away.
Luckily my husband supports my floral obsession and we decided to spend a few days in the area and take the opportunity of visiting the farm.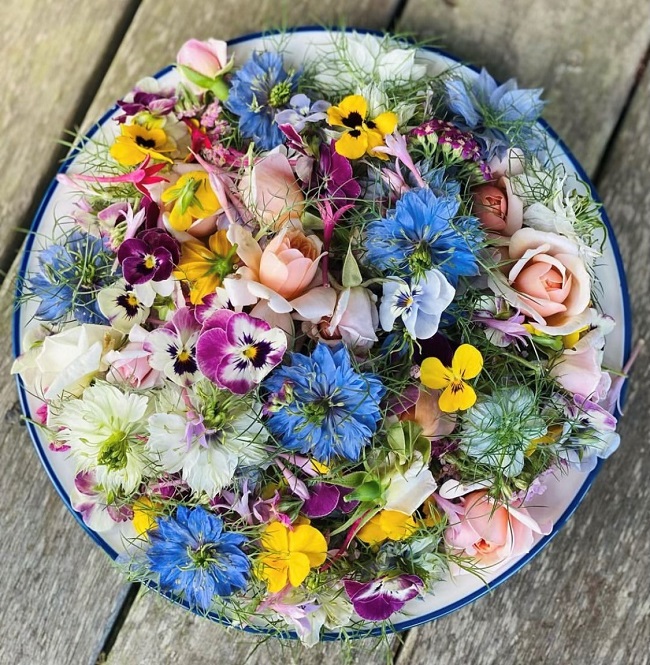 Elderflower Farm: Supplier of Fresh Edible Flowers
I spent an enjoyable couple of hours visiting Elderflower Farm at Kalbar in the Scenic Rim, in Queensland and chatting with the most delightful Rachel Watkins, who is the "owner, chief creative, flower whisperer and floristry mastermind".
She is a qualified horticulturist and florist and like me has an "obsession with all things flowers"!
Elderflower Farm supplies the Scenic Rim Farm Box and other local businesses with a variety of edible flowers, freshly picked daily. The varieties do vary with the seasons and weather conditions.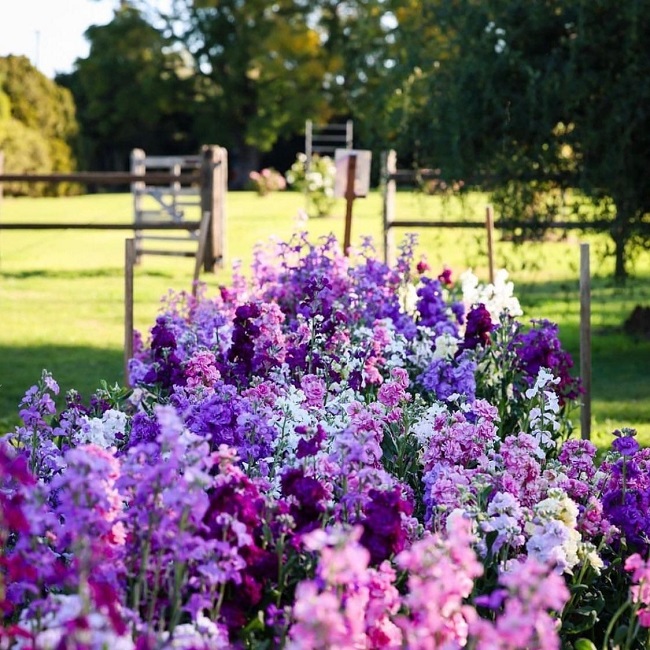 Buy Fresh Edible Flowers - Brisbane, Scenic Rim QLD
You can buy fresh edible flowers by placing an order directly with Elderflower Farm. The organic edible flowers are all picked to order, so you will be getting the absolute freshest possible.
All orders can be collected from the farm. Alternatively, you can order through Scenic Rim Farm Box who do have delivery schedules to certain parts of Brisbane. Check out their website for details.
Elderflower Farm is a small family run boutique flower farm built on "heart and passion".
You can feel it as you walk around the flower fields. It's peaceful and has a gentle atmosphere of serenity where the bees buzz, and the birds sing. The little Blue Superb Wrens flit in and out of the brightly colored flower beds and the beehives are full of quiet activity.
If I could have my life over again, this is what I would love to do!
Organic Flower Farming Combined with Edible Flower Farming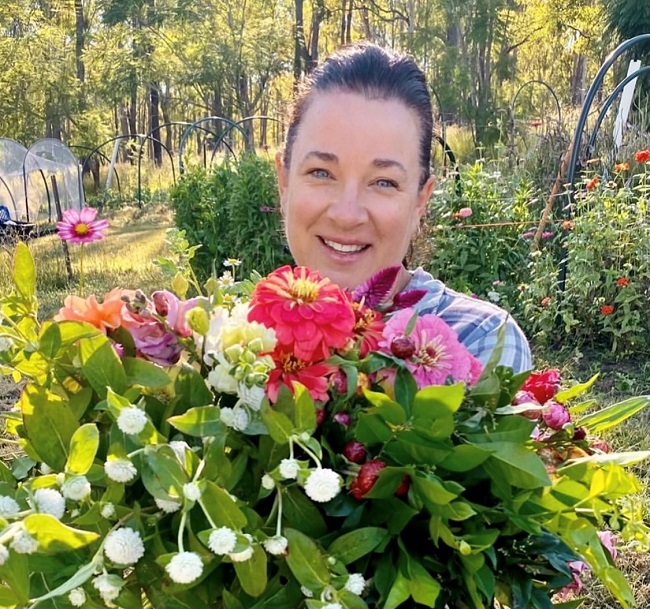 Rachel started growing flowers on a small scale at home in 2020 and realised this was her time to combine her 2 passions, horticulture, and floristry. After overcoming a number of hurdles such as running out of water and working with unfamiliar soil conditions, she and her husband Fred started a thriving and very busy boutique flower farm and shop.
Supplying edible flowers is not something that Rachel specifically intended to do, it just happened!
Her philosophy of not wanting to waste anything and growing  "multipurpose" flowers meant that edible flowers were an obvious "side hustle". Many of the cut flowers grown and sold by Elderflower Farm are edible and as the edible flower market strengthens it's a no brainer to be part of it.
So, when choosing which edible flowers to grow, Rachel likes to go for cut flowers for the vase that double as flowers you can eat. Varieties such as Stocks, Carnations, Snapdragons, Queen Anne Lace, Yarrow, and Cosmos being just a few.
The flavor of the flower also has an influence on whether it's grown or not. Anything that doesn't taste particularly nice (although is edible) tend not to make the flower bed!
Violas and pansies of course are possibly the most loved and popular of our edibles – and there are plenty of these supplied!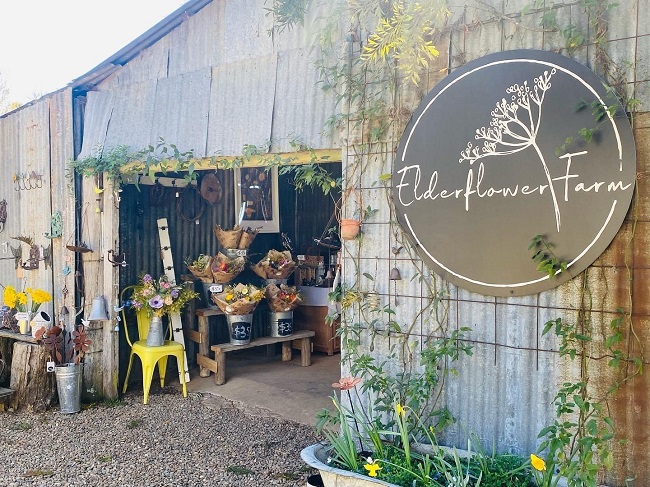 Visit the Elderflower Farm Shop and Flower Fields
Take a drive out to Kalbar and visit this beautiful little floral haven which is open to the public on weekends.
There is a café on site (which is run by a different owner) and Elderflower's fabulous farm shop full of a range of products with quality homewares, gardening supplies and pretty ornaments for the garden. Also bunches of flowers are on sale, as well as other homemade products such as dried petal teas, cookies and floripops.
There are no chemicals and other nasties used on the farm, so flowers that can't be used in bunches and are of an edible variety, will get used in several other ways. 
Elderflower Farm have 2 commercial dehydrators,  one for edible petals and the other for wedding flowerfetti which can contain nonedible petals.
The dried edible petals are used to make various products all of which are available in the shop on site
Variety of teas such as Gomphrena and Chamomile Tea, and Rose and Apple Mint Tea. All have been created and mixed with specific health benefits in mind and of course deliciousness.


Edible Flower Sprinkles are very popular. A beautiful seasonal mix of rose, cornflower, calendula, chamomile, elderflower, amaranth, lavender and viola.


Flower sugar – ideal to use to rim your cocktail or mocktail glasses.


Floripops are also hugely popular. These are stunning edible flower lollipops handmade by Rachel. They are made using the traditional toffee making method mixed with edible flowers grown on the farm and are delicious.


Pressed flower cookies. These aren't always available but when they are they sell out fast!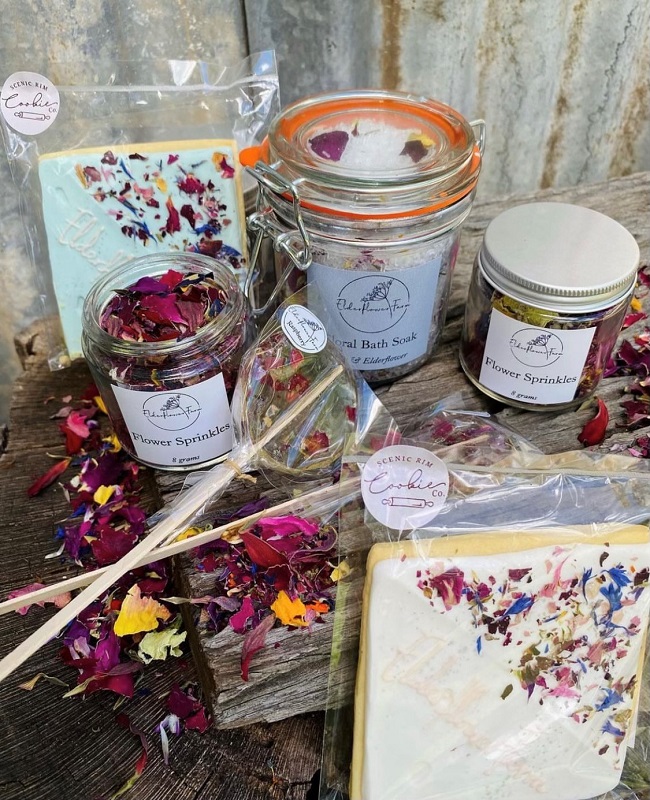 Elderflower Farm also periodically runs several floral workshops including decorating edible flower cupcakes, flower pressing, and picking and making your own bouquet.
Check out the website for any upcoming events.
And follow them on Facebook and Instagram.