Using edible flowers for cake decoration
Some incredible cooks have combined their love of flowers with baking skills to create some fabulous and beautifully unique cakes. Every day I am finding some truly beautiful creations that have used edible flowers for cakes. These delicious offerings have been decorated with fresh flowers, or dried flowers and more recently pressed flowers.
These are truly artworks and I'm just awestruck by the beauty of them.
An absolutely delightful and quick way of making your cake look a million dollars is to use fresh flowers for cake decoration. Put a simple flower as a floral cake topper on a simple cupcake, or make a sensational statement using edible flowers for wedding cakes. 
Use flowers in different ways to create a different effect.
Which edible flowers to use for cake decorations
Using edible flower cake decorations is now very popular as the edible flower trend has grown exponentially. There are now many edible flowers available commercially. Please only purchase edible flowers that are grown organically and specifically for the plate. Don't be tempted to use supermarket flowers or flowers from mainstream florists as they normally stock blooms that have been grown with the use of pesticides and fungicides.
You can of course grow your own edible flowers, ensuring the organic integrity of the growing process.
When selecting your flowers always make sure that you know they are edible. Here is an edible flowers list with pictures just as a guide. This is not an exhaustive list but there are many flowers here that you will be very familiar with. Also bear in mind the flavour that the flower might have. For instance, you wouldn't want the onion flavour of the pretty chive flower on a creamy, sweet tasting gateau! Click here for a quick edible flower flavour guide
Edible fresh flowers for cakes
The technique of decorating cakes with fresh flowers used to be quite involved, with the taping of the flower stems to create a barrier. Now we have the knowledge and understanding of how edible flowers are, so they can be placed directly onto the cake surface quite safely.
Many common garden flowers such as cosmos, impatiens, or the crucifix orchid look beautiful. You may already have these readily available in your garden. Lilac, native violets and bedding begonias are other very common garden flowers that work beautifully.
 Its simply a case of just placing the flower where you want to! It's beautifully easy and stunningly attractive to look at! And amazingly quick!
Ideas on how to decorate cakes with edible flowers
Smaller flowers such as violas, miniature roses, pansies, forget me knots, or violets are very easy to arrange in attractive ways. Just place them on the icing or frosting where you want them to go. If there is no frosting, then stick them on the cake surface with a drop of jam or syrup.

To achieve a confetti style look, pull the petals off larger flowers and scatter across the top of the cake.

Use a mixture of fruits and flowers. Fresh fig pieces, raspberries, finger lime pulp, blueberries, and strawberries can all be nestled in to create your floral cake arrangement.
Cupcakes might only require a single bloom. Try using daisies, crucifix orchids or pentas
Make a flower wreath around the edge of the cake top. Place a couple of larger flowers such as cosmos, dahlias or chrysanthemums in intervals and fill in the gaps with smaller flowers such as elderflower, dianthus, and fuchsia.
Use this same method for the full cover cake topping of edible flowers
Place a large statement flower as a cake topper. A couple of bright hibiscus would look wonderful or a couple of frangipani flowers
Edible Pressed flowers for cakes
Oh boy! Cakes decorated with pressed flowers have to be my absolute favourite! I'm seeing more and more of these and I just love them.
Your cake takes on the essence of a meadow or a garden. The pressed flowers can "grow" up the sides as if they are clambering up a garden wall. So much creativity. Add in the leaves and stalks and just press them on. Endless fun!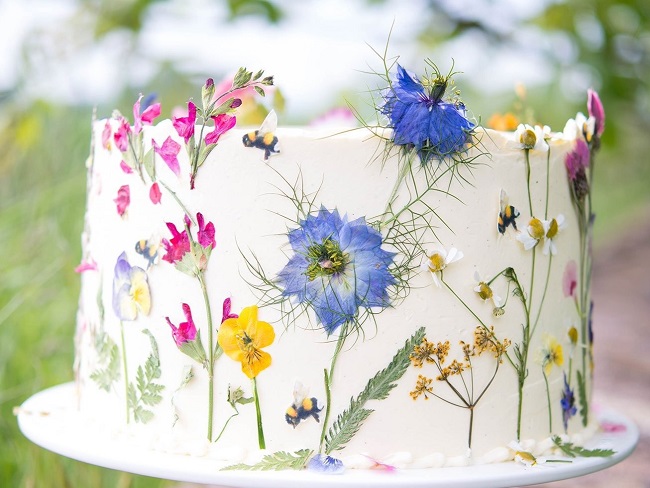 Edible Pressed Flower Cake by Blushing Cook
Blushing Cook has got to be my absolute favourite baking company. They have taken the use of pressed flowers to decorate their cakes to another level! One of their signature products is the most beautiful brownies that are covered in pressed flowers. I have ordered and had these delivered to friends in UK – and they were mesmerized by the sight and flavour of such beautiful brownies. The photo below is of the box of wonderful floral chocolate goodies that they received.
Check out the Blushing Cook website to see their other products.
How to press edible flowers ready for use on cakes
Pressing flowers is an old method of preserving flowers and one that is seeing a resurgence in popularity. You can use a flower press if you have one, or press flowers between absorbent paper and under a weight of a few books. This method though takes a long time (weeks) and doesn't always have the desired effect.
I have pressed flowers in the microwave mostly. This has been amazingly successful for me and so quick! I have used so many differnt flowers from the garden, and added in foliage and leaves. Its so much better than waiting weeks for your flowers to dry beneath a pile of books, and then finding that some of them have discolored or have creased somehow – or that they are just not that beautiful pressed!
Just a quick tip – the absorbent kitchen paper you use must not be embossed or otherwise your flowers will come out potentially with an embossed texture.
You will get to know which flowers are more suited to this form of drying. The flatter the flower, the quicker it will dry. Flowers that are bulkier such as miniature roses, will need longer. White flowers tend to become discoloured, so the brighter the flower the more vibrant it's likely to come out. Do some trials using different temperatures and different times and you will be fascinated by your results. It is SO easy! And quick!  You will be delighted!
Where to buy pressed flowers for cakes
As with any trend, more and more suppliers step up to service the market. Organic flower growers are doing the same and branching out to supply pressed flowers for cake decoration.
My favourite suppliers are Pretty Produce and Ecobotanica. Both these suppliers will press flowers to suit your order. So you can choose what palette you'd like, as well as the mix of blooms, stems and leaves
I have recently bought freeze dried flowers for cake decorating. I think these are amazing as they don't look dried! The freeze drying process maintains the integrity of the flower, where the colour and form looks very close to the fresh product. "Dried edible flowers that look as beautiful on your cake, as they do in the garden"! You look as though you have fresh flowers on your cake but they're actually dried!
You can buy these at Bloomish Co by Simply Rose Petals. They supply all types of flowers from mini roses, begonias, to "flowerfetti" in a variety of colours. They sell on line and will ship both nationally and internationally. If the pots of dried flowers are kept in dark and dry conditions they will keep for up to 2 years. A wonderful thing to have in any bakers cupboard!
Where to buy edible dried flowers for cakes
Other Australian organic flower growers also supply dried flowers which are usually dried in a dehydrator. Most of them also sell online and will ship. Here is a list of some of the reputable organic edible flower growers that I am familiar with.