The Joyful World of Edible Flowers
Find Out Which Flowers You Can Eat and How to Use Them
Find out which flowers you can eat by looking through this list of edible flowers with pictures, although there are many more than those shown here.
You can't deny it – there is something special and delightful about flowers you can eat!
When you see a flower on your plate it brings a delight and joy that other garnishes don't.
We can eat so many of our favorite garden flowers. Nasturtiums, marigolds, violas, and pansies are among the well-known varieties. There are, however, a tonne more!
Be careful that you only use flowers that have been grown organically without the use of pesticides or chemicals.
Don't  use flowers sold at supermarkets or general florists, as these blooms have been grown for the vase, not the plate. Most will have been grown using chemicals that you don't want in your body.
Also, be careful picking flowers from roadsides that are exposed to vehicle fumes as they could be contaminated with toxic substances.
Where can I Buy Edible Flowers
Click here for a comprehensive Guide to Organic Edible Flower Suppliers.
It's important to only use flowers that you know have been grown without the use of pesticides or chemicals. For this reason, it's a great solution if you can grow them yourself.
If you can't grow the edible flowers yourself, there are an increasing number of organic edible flower farmers that grow blooms specifically for the plate and many take online orders. More and more speciality retail outlets are also stocking flowers you can eat.
Ask at your local independently owned fruit and veg store as they often have contacts with local producers.


Many farmers markets also supply edible flowers if there is a local grower.


I've also found that Instagram is also a great place to find growers and suppliers, try searching #edibleflowers
Benefits of Eating Flowers
Apart from their visual appeal, many edible flowers have additional nutritious properties. Flowers such as roses, violets and calendulas are rich in vitamins and minerals like vitamin C, folate and potassium.
Many flowers you can eat also have medicinal properties and are often used in natural remedies. Echinacea is well known for boosting immunity and Hibiscus also has high levels of flavonoids and nutrients. Flavonoids have powerful antioxidant properties which are used in helping with symptoms of inflammation, reducing blood pressure and improving heart health.
Although the nutritious value varies widely, it's good to know that the flowers you are consuming do have a positive effect on your body (not only on your eyes!).
Edible flowers are a versatile and nutritious addition to your plate, which will add a burst of colour and in some cases flavour to your dish.
Make your food look as though it's just come out of a fancy restaurant! Your dish can look exquisite by simply placing a flower or adding some petals.
The options are endless for using edible flowers for garnish
Try putting some nasturtium flowers in your next salad, and include some of the leaves for an extra peppery taste. The contrast in shape and texture of the leaf will add to the interesting visual effect.
Or jazz up a pasta dish with some bright marigold or calendula petals and a couple of pink chive flowers.
Violas and pentas florets are also so beautiful decorating desserts or cupcakes and a very easy way of adding a bit of pizazz to your plate.
Add a bit of decadence to your drinks by using flowers you can eat! 
There are many flowers that will compliment the flavor of spirits in a cocktail, as well as making a simple refreshing soft drink look appetizing and interesting.
See here how you can use edible flowers for drinks and cocktails.
Add little pink begonia flowers to some pink champagne.
Or just plain water can be made so refreshing with little starlike borage flowers which have a cucumber taste.
Floral ice cubes with little flowers suspended in the middle of the ice cube are becoming very popular. These are easy to do and so very effective in both cocktails, mocktails or any refreshing drink.
Most small flowers look exquisite in ice and will create an enchanting touch to your drink, as the ice melts.
Using Flowers in Cake Decorating
So many cake makers these days are using edible flowers to produce stunning visual effects on their cakes.
I received one of these cakes for my birthday and I was delighted!
It was decorated with vibrant pink cosmos and a variety of other flowers you can eat, such as miniature roses, dianthus and daisies. It was SO beautiful!
See here the different ways you can use edible flowers for cake decorating.
There are other options of using flowers for cakes, which will keep a bit longer than fresh flowers.
You can use crystallized flowers (which are very easy to do) or pressed flowers. Also freeze dried flowers are becoming very popular and can be stored if kept in a dark pantry.
The pressed flower cakes have become very popular and have provided a platform for some very creative artistic designs.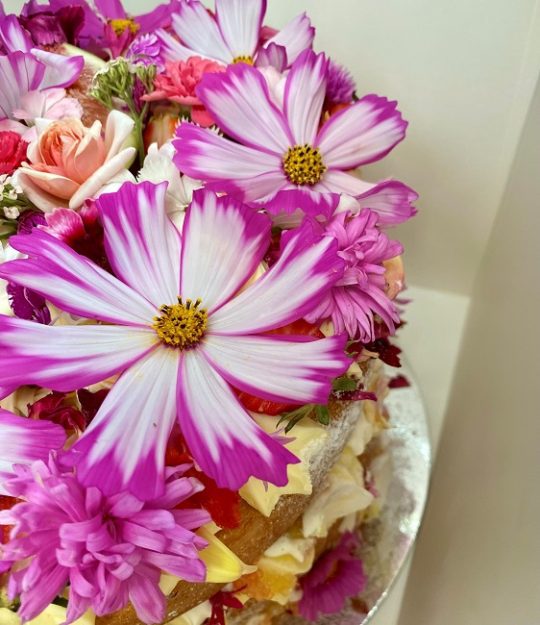 Growing Flowers You Can Eat
It's really important not to eat flowers that haven't been grown organically. This is for the obvious reason of not wanting to add unwanted chemicals to our diet! So, the easiest thing to do is to grow your own edible flowers!
If you have a garden, you can have such fun growing flowers you can eat! You will probably find that you already have some, that you didn't know where edible.
Here are some of the best edible flowers to grow in your garden, which I hope will inspire you to start your own edible flower garden. There will be something here that will grow in your climate
Did you know that roses, violets, zinnias, pentas, begonias, snapdragons, honeysuckle, daylilies, fuchsias, and even freesias are edible? And bougainvillea also!
One of my favourite common garden flowers is the Crucifix Orchid (Epidendrum ibaguense), which has a pretty, intricate bloom that has a charm that I feel I must highlight! I often use this to decorate a bowl of ice cream, or on the top of a cake. It's exquisite!
Growing Flowers You Can Eat in Pots
If you don't have a garden, then grow some edible flowers in your courtyard or on the balcony. Verbena, Lobelia, pansies, scented geraniums, marigolds, and violets are a few of the many varieties that will very happily grow in a pot or container.
Growing edible flowers in pots gives a lovely fresh garden feel in whatever space you have. There is something very therapeutic and relaxing about being amongst plants and flowers.
It's also very satisfying popping out and picking a few blooms to decorate whatever you're making. I pick a small posy of flowers and sit them in my fridge during the summer to keep them fresh. This reminds me to use them every time I open the fridge!
The simplicity of just adding a nasturtium to bring extra colour to a salad or cornflower petals to a bowl of yogurt has a pleasing visual effect. Little native violets are also so pretty, use them to decorate small plates.  Just pick some of your flowers and add them to whatever you're eating!
Your Edible Flower Care Guide
Collecting and storing your edible flowers is easy. You just need to be gentle with them. Click here for your edible flower care guide.
Harvest the flowers in the morning, just after the dew has dried and before the hot sun has started to wilt them. Pick only the best blooms and avoid those that are going over or too damaged to look good. Smaller flowers are quite delicate so you will need to handle them carefully.
Organic flower suppliers suggest that there isn't a need to wash the flowers, as they have been grown organically and water can cause damage by making the petals stick together. Just brush off any little insect stowaways carefully with a paintbrush.
Destalk the flowers and in some cases snip off the pistils and stamens if these are too bulky or bitter tasting.
The flowers can then be kept in the fridge for a few days before they will start to deteriorate. The best scenario is to use them straight away if possible.
Which Flowers are Poisonous
As you would know, not all flowers are edible and poisonous flowers are usually beautiful but deceiving!
Foxgloves (Digitalis purpurea) for example are beautiful in the vase but poisonous if eaten.
Click here for a list of some common poisonous flowers, and a description of the effects that can be caused by the toxins in the plant. This list is by no means exhaustive but highlights some of the most common poisonous flowers to eat which we commonly have around us.
It is really important that you do your own research into any flower before choosing to eat it or supplying it to other people. Some can be very toxic and so you will need to be aware of which flowers are safe to eat.
In practice, it usually takes a reasonable amount of ingestion to create severe sickness but its still not safe to have toxic flowers on your plate and are best avoided.
What do Edible Flowers Taste like
Here is a guide on what do edible flowers taste like.
Edible flowers have a wide range of flavors, varying from spicy, sweet, tangy, pungent and bitter. So before using make sure you do a taste test!
Many flowers you can eat have a bland or subtle flavor and so can be used in most dishes. Others have a distinct aromatic flavor and so would only enhance certain savoury dishes.
Marigolds for instant are better paired with savoury such as pastas, curries or fish dishes.
Those lovely little pink chive flowers have a distinct oniony flavour and so also go well in savoury dishes where the flavour will give a subtle enhancement.
Flowering herbs such as rosemary, and cilantro or coriander also have strong aromatic flavours. These are wonderful used in dishes where the flavours compliment or traditionally enhance the flavour of the dish.
Flowers such as violas, violets or pentas do not have a strong taste and so can be used to decorate any dish.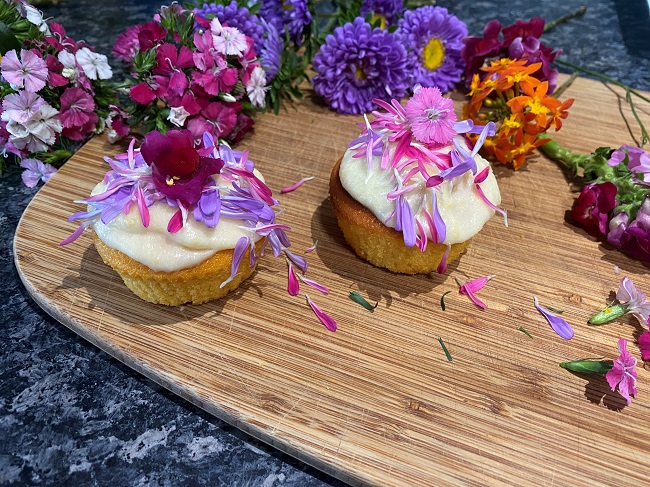 Edible Flower Cupcakes that are almost too beautiful to eat: This article shows you how to create a joyful fusion of nature, beauty, and baking creativity.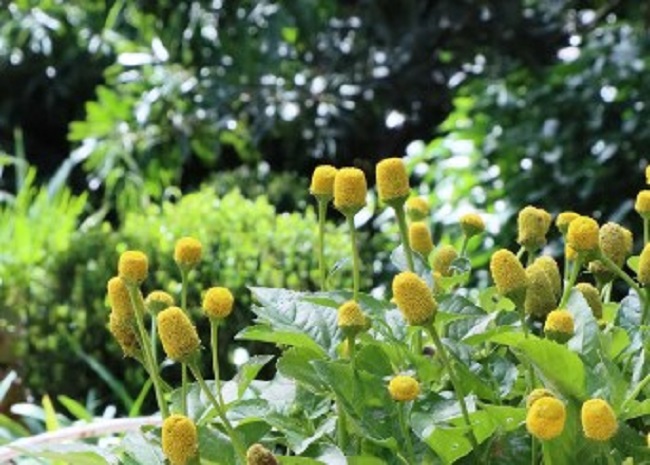 The Buzz button (Acmella oleracea) is a very interesting edible flower! The plant's botanical name is Acmella oleracea, and is also known as the toothache plant, electric daisy, electric button, and Szechuan Button. Read on to discover why these names are so apt!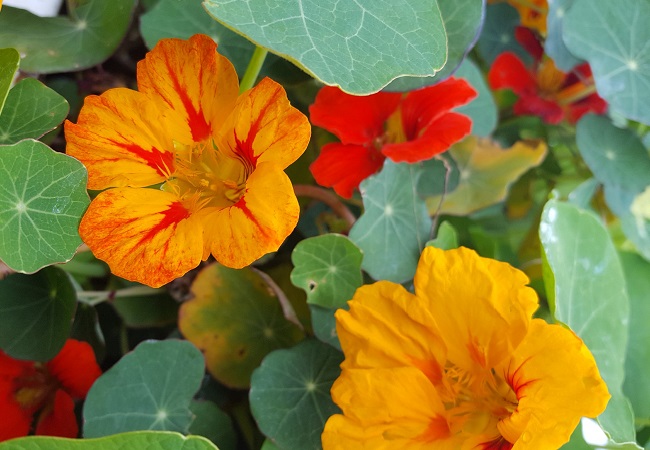 Nasturtiums are possibly the most widely known edible flowers. They have wildly vibrant coloured flowers that I find irresistible whether I'm painting, cooking or flower crafting. These wonderful plants come in so many different varieties and have an incredible array of sunset colours which are so inspiring.