How to Garnish Drinks with Flowers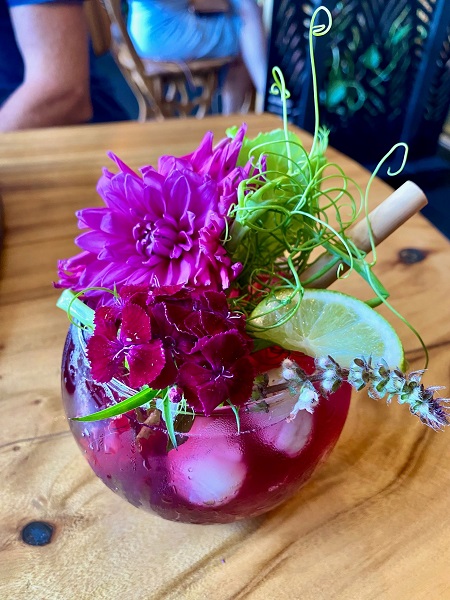 To make a drink more visually appealing, we can get some inspiration from nature, adding extra flavors and even textures, by garnishing with edible flowers for drinks.
Flowers are so easy to use as garnishes, and you will most likely find many you can use already growing in your garden. It takes just a little bit of imagination and creativity to enhance the visual impact, by adding a little bit of floral or herbaceous garnish.
Use your creativity and love of nature to make an impact!
Garnish your drinks with edible flowers!
Or make fancy cocktails just by adding natural color to your gin with mallow flowers.
What Flowers Can You Put in Drinks?
Is it safe to put flowers in drinks?
Yes! But firstly make sure that the flowers you are using are edible!
Here is a list of edible flowers with pictures for you to check out. This is not an exhaustive list, but it has many of the common garden flowers which you can easily source.
Always be aware of where your flowers have come from as they must be free of pesticides and fungicides.
This is important as supermarkets and high street florists supply flowers grown for the vase. Don't use flowers bought from supermarkets or standard florists unless sourced from local organic growers. The flowers will have been treated with chemicals that make them unsafe to eat.
Also be aware that any flowers you may pick from a roadside are going to be affected by toxic fumes from passing cars.
Remember,  whatever flowers you use in your drinks need to be safe for human consumption.
Where to Buy Edible Flowers for Drinks and Cocktails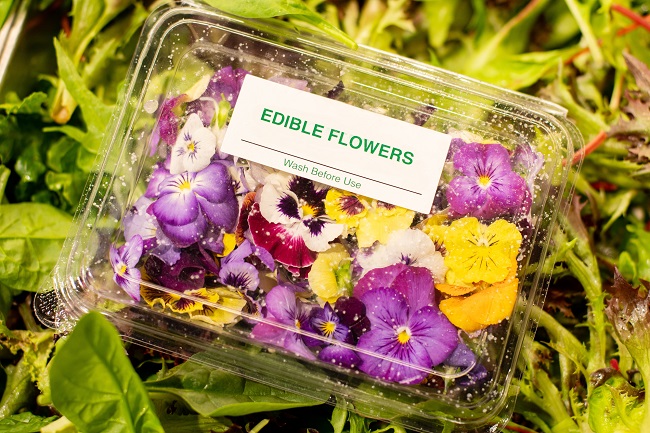 There are many organic edible flower growers who can supply an assortment of seasonal edible flowers. Many will take orders online and will arrange delivery.
Here is a suppliers list of some organic edible flower growers in Australia.
Otherwise look at your local farmers markets or local independent grocers. Social media platforms such as Facebook and Instagram also are good sources of supply information
So which flowers are good for cocktail garnishes?
I'm sure you've all seen fabulous pictures of an orchid garnishing a tempting-looking cocktail or mocktail!
My husband and I went to Hawaii a few years ago, and I was ecstatic when the cocktails we ordered came out so beautifully garnished with an orchid or a bright hibiscus flower. At the time I had no idea I could have eaten the delicate little orchid flower or the more robust but joyful hibiscus!
It made my cocktail look so interesting and appealing. I don't remember how the cocktail tasted, I remember though how it looked! The cocktail garnishes made it memorable!
The glamour of cocktails and mocktails is emphasized when you use bright edible flowers as a garnish.  I always think that a cocktail looks incomplete without a garnish, and I feel cheated when I buy an expensive cocktail and it has no garnish!  A striking floral garnish rounds off the air of decadence and fun that is part of the world of cocktails!
Cocktails is all about the presentation. This includes the glassware, the colour of the drink and of course the garnish, which really creates the complete picture.
You can make it as simple as you like or a little more sophisticated, depending on the type of cocktail being served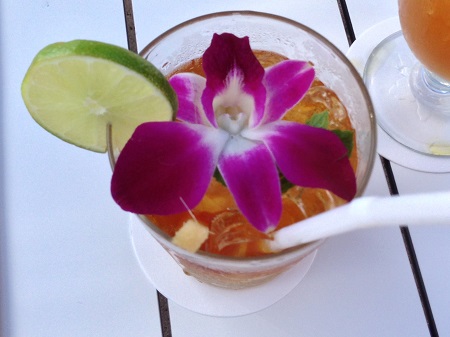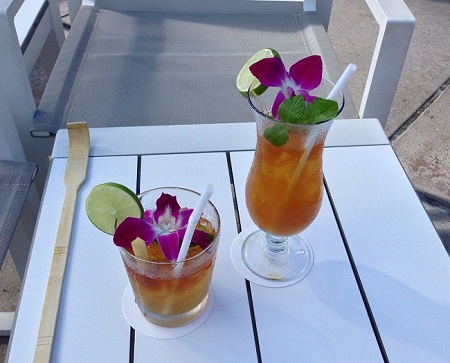 The Best Edible Flowers for Cocktails
There are a few edible flowers that are well known as cocktail garnishes, such as hibiscus and orchids.
Although orchids and hibiscus cocktails have been made famous by wonderful scenes from Hawaii, other flowers work very well too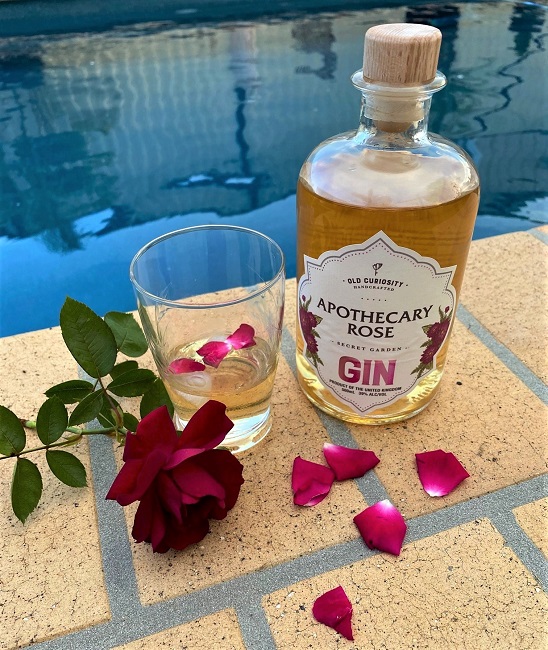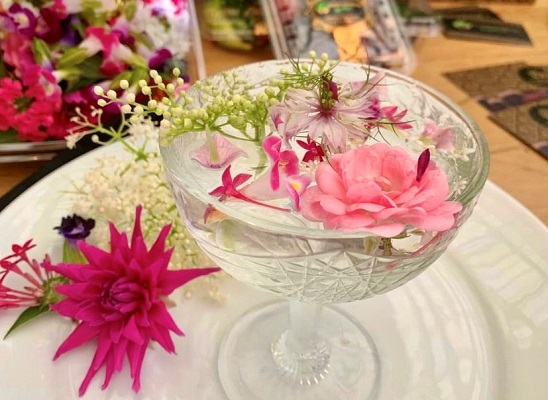 Bee Balm (Wild Bergamot) has striking red flowers. Pick off the bright tube-shaped petals and garnish any fruit cocktail. Bee balm pairs particularly well with watermelon, raspberries, and strawberries.


Roses go nicely with gin, vodka, and champagne cocktails because of their sweet, floral flavor.
Elderflowers are also used in clear spirits for their sweetness. It is often made into a cordial which is then added to sparkling water for a refreshing non-alcoholic drink.
Carnations and dianthus (pinks) have slightly spicy notes which will enhance rums and whisky drinks and give the drinks depth and complexity.
Butterfly Pea Flower has become very popular. The flower looks stunning and has the fun element of changing the colour of the drink if the acidity is changed! It doesn't have much in terms of flavor so can be used with any clear spirit or beverage.
Buzz Button (or Szechuan Button) is another fun flower that is gaining popularity. This flower isn't particularly attractive, but it contains a compound called spilanthol. This gives the flower its name – as it sets your mouth a buzzing! Read all about the buzz button here – you may want to try it on your guests!
Chamomile is a wonderful complement to whisky or gin drinks because of its gentle, honey-like flavor.
Marigolds mix nicely with good ol' Bloody Mary because of their mildly peppery flavor. Try nasturtiums with a Bloody Mary, the colour and the peppery flavor of the bloom match beautifully with the tomato in the cocktail.
How to Use Edible Flowers for Drinks to Compliment the Flavor
It's crucial that you pair the flavor of your flower garnish with that of the drink you are presenting, as adding a garnish can bring another layer of flavor to the drink.
Honeysuckle flowers make an exquisite garnish. They have a sweet floral perfume which is a mix of jasmine, honey and vanilla.
Use to garnish gin and tonic, daiquiris, margaritas or sweet wines. The sweetness of the honeysuckle pairs well with mint, citrus, strawberry and peaches.
The sweet, floral aroma of honeysuckle brings a delicate flavour when infused in vodka. Honeysuckle infused vodka is simple to make and can be used as a base for cocktails or as a lovely refreshing drink when mixed with soda water.
Achieve a sense of class with an expresso martini with a garnish of viola and lavender. Although edible, not everyone would choose to eat this garnish, but it looks very classy. It is really a small piece of edible art.
Or for simplicity float some blooms on top of the drink.
Little pink begonia flowers floating in a glass of rose wine or sparkling pink champagne look adorable.
Bright blue star-like borage flowers with their cucumber-like flavour would look great in a glass with either gin, lemonade, or sparkling water.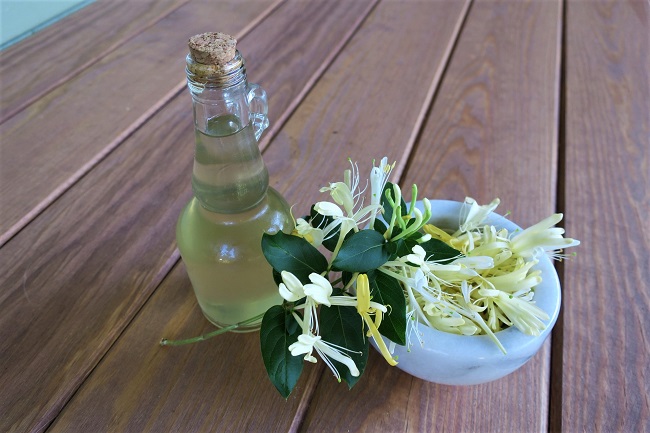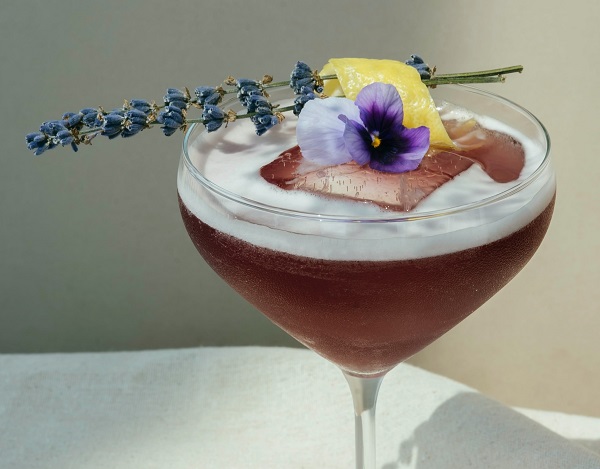 Simple Ways to Use Edible Flowers for Drinks
Using edible flowers for drinks can lift your drinks to another level. Just a little creativity using some petals, flowers, or leaves has a great uplifting effect. It's joyful and its fun! And your drinks look impressive and attractive!
Try also making some beautiful flower ice cubes and adding them to your drinks. They make even water look interesting and pretty!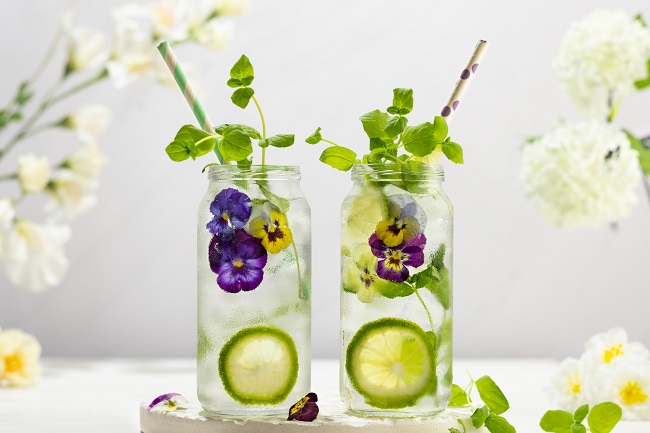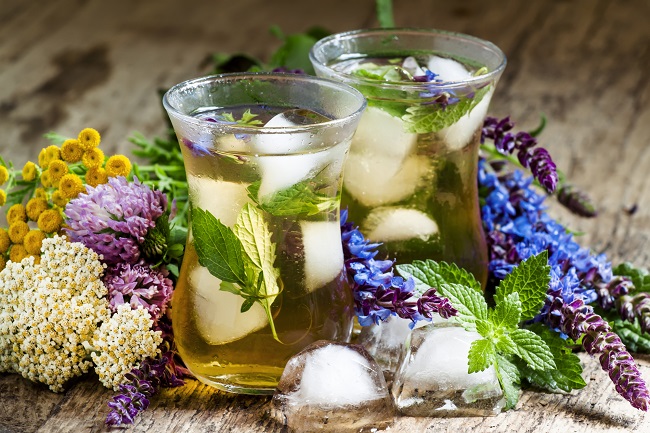 Edible flowers for drinks also include flowering herbs. Fresh herbs such as mint, rosemary and thyme add visual interest as well as a subtle flavour. They release essential oils which add an extra aroma.
Use these herbs when they're in flower too if available, as this provides additional interest to the garnish.
These garnishes also will make an ordinary glass of sparkling water much more enticing to drink.
Use sprigs of scented geranium. They come in a variety of flavours ranging from citrus and spice to fruits and flowers. The most well-known ones are probably rose geranium and lemon geranium.
Both the leaves and the flowers are edible and lend themselves to both decorative and interesting flavours.  The essential oils in the leaves provide the spicy but flowery flavour to gin or vodka based drinks. 
It also makes a glass of water so much more interesting, with its aromatic and refreshing taste enhancing the water.
Jars of Wild Hibiscus blooms in syrup are readily available in shops.
Drop a rosella flower calyx  into the bottom of a champagne glass, where it will gradually unfurl and delight you. If you add in a teaspoon of the syrup this will give a wonderful pink hue to the champagne and a hint of sweetness.
Add dried hibiscus (rosella) blooms to rum and let it sit for 30 minutes. The cranberry tartness in the hibiscus will infuse with the rum as well as tinging it with a gentle rouge colour. The hibiscus must be dried though or else this doesn't work so well.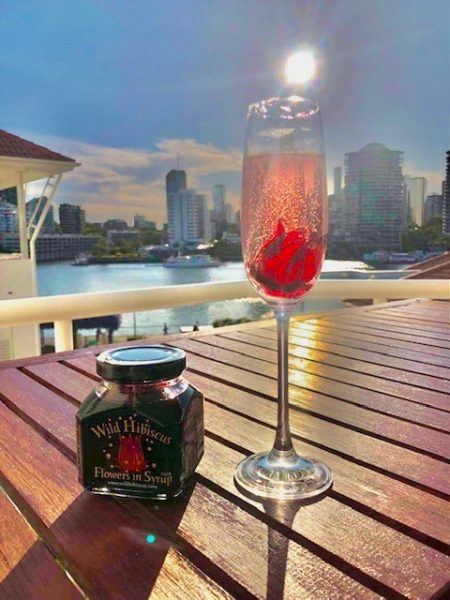 Using edible flowers for drinks and cocktails is a versatile and beautiful addition to any beverage. With the right flowers and pairings, you can take your drinks to the next level and impress your guests.
Experiment with different flowers and cocktails to find your perfect combination and create a unique and stunning drink.