How to Garnish Drinks with Flowers
Edible flowers for drinks and cocktail garnish flowers
Edible flowers in drinks can make a mediocre and boring drink look really special and appealing.
To make a drink so much more visually appealing we can get some inspiration from nature, adding extra flavours and even textures. Flowers are the obvious choice and usually you can find flowers to use in your own garden. Use your creativity and love of flora to make an impact!
Garnish your drinks with edible flowers!
It takes just a little bit of imagination and creativity to enhance the visual impact, by adding a little bit of floral or herbaceous garnish.
Always be aware of where your flowers have come from as they must be free of pesticides and fungicides. This is really important as supermarkets and high street florists supply flowers grown for the vase. Unless sourced from local organic growers they will have been been treated with chemicals that make them unsafe to eat. Also ensure that the flowers you are working with are edible flowers.
I'm sure you've all seen fabulous pictures of an orchid garnishing a tempting looking cocktail or mocktail!
My husband and I went to Hawaii a few years ago, and I was ecstatic when the cocktails we ordered came out so beautifully garnished with an orchid or a bright hibiscus flower. At the time I had no idea I could have eaten the delicate little orchid flower or the more robust but joyful hibiscus!
It made my cocktail look so interesting and appealing. I don't remember how the cocktail tasted, I remember though how it looked! 
The glamour of cocktails and mocktails is emphasized when you use bright edible flowers as a garnish.
Cocktails is all about the presentation. This includes the glassware, the colour of the drink and of course the garnish, which really creates the picture. A cocktail always looks incomplete to me without a garnish that rounds off the air of decadence and fun that is part of the world of cocktails! For me the flower garnish is the most appealing!
Not much effort is taken in adding a garnish, just a little creativity.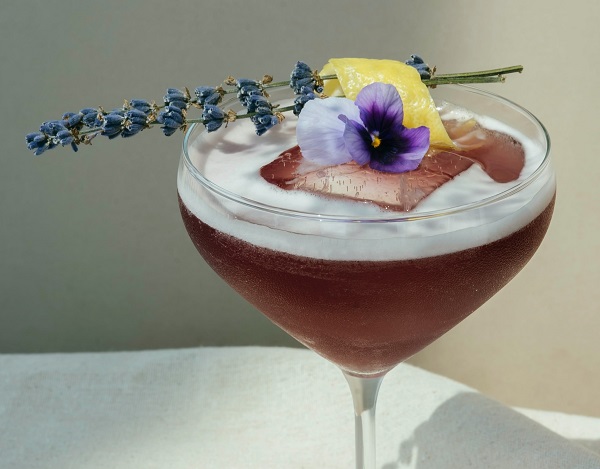 You can make it as simple as you like or a little more sophisticated, depending on the type of cocktail being served.
Achieve a sense of class with a expresso martini with a garnish of viola and lavender. Although edible, not everyone would choose to eat this garnish but it looks very classy. It is really a small piece of edible art.
Or for simplicity float some blooms on top of the drink.
Little pink begonia flowers floating in a glass of rose wine or sparkling pink champagne looks adorable.
How to add a garnish that compliments the flavour of your drink
Adding a garnish can also bring another layer of flavour to the drink. Pair flowering herbs and flowers with certain flavours of beverage.
Fresh herbs such as mint, rosemary and thyme add visual interest as well as a subtle flavour. They release essential oils which adds an extra aroma. Use these herbs when they're in flower too if available, as this provides additional interest to the garnish. Gin is a particularly good medium for many botanicals, which is why its become very popular to have gins infused with a wide variety of botanicals.
These garnishes also will make an ordinary glass of sparling water much more enticing to drink.
Simple ways to make your drinks look impressive and appealing
Use sprigs of scented geranium. They come in a variety of flavours ranging from citrus and spice to fruits and flowers. The most well known ones are probably rose geranium and lemon geranium. Both the leaves and the flowers are edible and lend themselves to both decorative and interesting flavours.  The essential oils in the leaves provides the spicy but flowery flavour to gin or vodka based drinks. 
It also makes a glass of water so much more interesting, with its aromatic and refreshing taste enhancing the water.
Honeysuckle flowers make an exquisite garnish. They have a sweet floral perfume which is a mix of jasmine, honey and vanilla. Use to garnish gin and tonic, daiquiris, margaritas or sweet wines. The sweetness of the honeysuckle pairs well with mint, citrus, strawberry and peaches. Also with elderflower and roses.
The sweet, floral aroma of honeysuckle brings a delicate flavour when infused in vodka. Honeysuckle infused vodka is simple to make and can be used as a base to cocktails or as a lovely refreshing drink when mixed with soda water.
How to use flower garnishes for cocktails, mocktails, spirits and non alcoholic drinks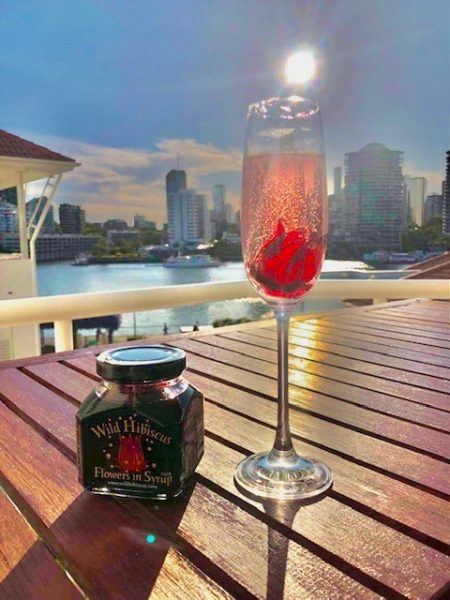 You can easily buy jars of Wild Hibiscus blooms in syrup. Drop a rosella flower calyx  into the bottom of a champagne glass, where they will gradually unfurl and delight you. If you add in a teaspoon of the syrup this will give a wonderful pink hue to the champagne and a hint of sweetness.
Add dried hibiscus (rosella) blooms to rum and let it sit for 30 minutes. The cranberry tartness in the hibiscus will infuse with the rum as well as tinging it with a gentle rouge colour. The hibiscus must be dried though or else this doesn't work so well.
Little bright blue starlike borage flowers with their cucumber like flavour would look great in a glass with either gin, lemonade or sparkling water.
Try nasturtiums with a Bloody Mary, the colour and the peppery flavour of the bloom match beautifully with the tomato in the cocktail.