This article will help you to explore how to grow incredible edible flowers and suggestions on how to use them. You might be surprised to find that you are already growing many in your garden. In this article I've included some flowers that are often found in gardens but are not widely publicized as being edible.
When you know which flowers you can eat it will open up a whole new opportunity to explore using them.
Cosmos (Cosmos bipinnatus & Cosmos sulphureus)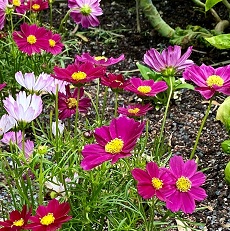 Cosmos is an adorable country flower that grows in the wild on roadsides in places like South Africa. It is hardy, cheerful and so attractive in it's simplicity. Bees and butterflies love cosmos!
Growing: Cosmos are easily grown by seed and will withstand the poorest of soils. They need full sun and can tolerate dry conditions. Dead heading will encourage more flowering. If left, these plants will self seed.
Colours: The most commonly known is Cosmos bipinnatus, which has cerise, pale pink and white flowers. Cosmos sulphureus has wonderful golden yellow flowers.
Taste: The petals are the most edible part of this flower. The stamen is heavily pollenated and although not toxic, it is unpalatable. The leaves also, despite being a wonderful visual plating ingredient, also is bitter and unpalatable. I will still use the whole flower and leaves if using as a garnish on a platter, as generally people will not put these bits onto their plate.
Uses: I have used the whole flower for garnishing a cheese platter. and it looked spectacular. I've also seen cosmos decorating the tops of cakes.
The bright petals can be used decorating cupcakes, desserts or salads
Begonia (Begonia x semperflorens and Begonia x tuberhybrida)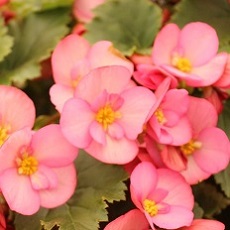 Begonia semperflorens is the very popular ever flowering bedding plant. It is very common and can be found in many gardens.
Growing: Begonias are very easy to grow but need soil that holds enough moisture to maintain a level of hydration. They will grow in full sun in cooler climates, although only if this means that the soil isn't allowed to dry out as they cannot tolerate drought conditions. Partial sun is ideal and supplement watering is recommended.
Colours: Vary from pink, white and red.
Taste: The cute little flowers are crisp and moist and have a delicious light lemony flavour. The begonia tuberhybrida is the common household plant and has much larger blooms which vary greatly in colour. The taste of these begonias also vary depending on the colour.
Uses: The subtle light flavour pairs well in salads, fish or pasta. They make a very pretty garnish to both savoury and sweet dishes. Decorate cakes, cupcakes and desserts. These flowers also look very pretty in drinks. You can float some little pink begonia flowers in a glass of pink champagne! Or in a glass of pink gin and tonic! Or dip some blooms in yogurt and serve for breakfast. These little flowers also crystallise well.
These little flowers are so common and easy to find. Please be aware of where you get your blooms from though, as public gardens and commercial flowers sellers could well have used pesticides and chemicals.
Pentas (Pentas lanceolata)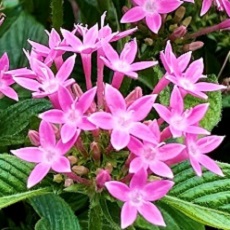 Pentas has recently become a popular garden plant but is not widely publicised as being edible. It has a pleasant sweet flavour due to the high nectar content. Bees and butterflies love it! Also known as Egyptian Starcluster, this plant is native to tropical Africa and has beautiful clusters of small bright star like flowerets.
Growing: Pentas have become very popular garden plants as they are a low maintenance plant which provides year round flowers when given the right conditions. They are fairly slow growers and so are also ideal for containers. The small bushes may get unruly, they just need to be pinched back for rejuvenated growth. Plant in moist, well drained soil, preferably in full sun although they will tolerate partial shade. In tropical areas, if it gets plenty of water, warmth and sun it will reward you with abundant blooms throughout the year.
Colours: Comes in a variety of colours, varying from white, mauve, reds and different shades of pink. New hybrids have come out with two toned blooms.
Taste: Very subtle, fresh, slightly sweet flavour. It tastes to me like fresh lettuce with subtle drops of sweetness from the nectar. Will not affect the flavour of your dish so can be used abundantly as a garnish.
Uses: It looks wonderful as flowerfetti, sprinkled over desserts, cakes or salads. The strong, fresh colours and the star formation of the flowers has a pleasing and distinctive visual impact.
These little starlike flowers press well as separate starlike flowerettes.
It also has medicinal properties and plays an important role in African traditional medicine.
Daylily (Hemerocallis spp)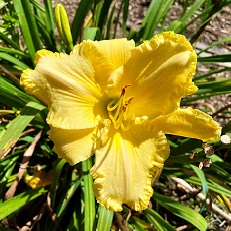 The daylily can found in many gardens, and is another of those flowers that many people are unaware of how delicious they are!
Despite is name, this plant is not a lily. Lilies are not edible and so it is important that you have correctly identified your daylily if you want to use it in the kitchen.
Growing: Daylilies will grow almost anywhere in full sun. They are very hardy, drought resistant and require very little maintenance. If you want them to flower abundantly, give them good fertile soil and regular doses of organic fertiliser.
Colours: There are numerous hybrids with a fantastic array of colours, all of which are edible.
Taste: The petals have a wonderful fleshy and crisp texture. They have a lovely fresh, sweetish flavour, not dissimilar to a crisp iceberg lettuce.
Uses: Daylilies are called such, because the flowers only last one day. Pick them on the day you want to use them and early in the morning, once the dew has dried. Before use, remove the stamens, from the middle of the flower as they are bitter.
Use the petals in salads, if you have a variety of colours this would make quite a fun, colourful salad.
Or use the whole flower as a dessert signature dish. Fill the centre of the whole flower with slightly sweetened cream or mascapone filling.
Wishbone Flower (Torenia fournieri)
The wishbone flower is a delightful annual plant, with brightly coloured flowers and a long flowering season. It gets its name from the 2 stamens that join together to resemble a wishbone. The flower is a tubular shape with 2 lips, and 2 toned blooms with a yellow centre. A very rewarding flowering plant.
Growing: The ideal growing conditions is full morning sun and shade in the afternoons. This plant likes a moist but bright position with well drained soil with good organic matter to encourage the profusion of long lasting flowers. These plants do not tolerate drying out so watering needs to be maintained if flower abundance is wanted.
Colours: Blue, pink, purple, white and yellow
Taste:
Uses: Great little spots of colour for garnishing and decorating
Native Violet (Viola hederacea)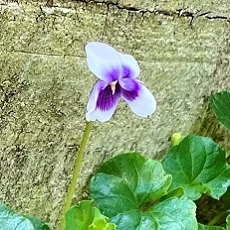 This little violet is native to mostly the eastern states of Australia and is often found growing wild. You may well find these growing in your garden and you might not have realized that you can use them to add some joy to your plates. Pick some, and keep them in your kitchen to remind you to use them!
Growing: This groundcover produces pretty little solitary violet flowers on a single stalk. It is evergreen and grows prolifically in shady, moist positions and flowers abundantly throughout spring to autumn. It will often be found is corners of walls and shady spots under trees as it needs very little care and propagates through runners under ground.
Colours: White petals with varying shades of purple flowing out from the centre of flower. It has a small but bright orangy yellow stamen.
Taste: These delightful little flowers don't have a strong flavour so can be used liberally in any dish.
Uses: The cute little flowers are great as finishing touches on cupcakes, or as a dessert topping. The small round leaves are also edible and can be added as a leaf substitute in a salad to create a contrast in shape and texture. These little flowers are effective when crystallized.
Pansy (Viola x wittrockiana) and Johnny Jump Up (Viola tricolor)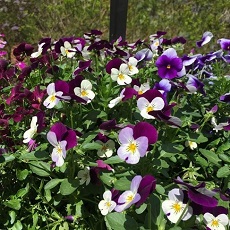 Pansies and violas are particularly versatile and can be used in a number of forms. They work exceptionally well as a fresh flower and is also a very easy flower to press, which is a method that is becoming very popular in cake decorating.
These incredibly beautiful little flowers are so adorable with every flower having a unique colouration which makes them so interesting to use.
Growing: Pansies and violas like well drained soil and in partial sun. They don't tolerate hot conditions well and so flower and grow better in tropical climates during the winter. Keep well watered and dead head regularly and they will flower abundantly. Generally considered to be an annual, although in cooler climates they do self seed. They grow well in containers too.
Colours: There is an enormous variety of colours ranging from single colour to beautiful blending of colours within the same flower. One of my absolute favortites of all time.
Taste: The taste is mild and so doesn't influence the taste of the dish or drink you're presenting.
Uses: They are delightful decorating any dessert plate, or cup cake just by adding to the side of the plate. Or press the whole flower and use to create a master piece pressed flower celebration cake. Pop them into a green salad bowl, a fresh fruit salad, or put some cream cheese on a cracker and top with a pansy. Float small violas in cold drinks or champagne for an extra special effect.
Make ice cubes with these beautiful little blooms in the center. When the ice melts in your drink, these pretty little flowers will appear!
Pansies and violas are great flowers for pressing or crystallizing.
Its worth noting that not all violas are edible, so if you're not certain it's worth doing some research around the species you're looking at. Viola cornuta, Viola hybrida, Viola tricolor, Viola x williamsiana, Viola x Wittrockiana (Pansy) and Viola odorata are all edible.
Calendula (Calendula officinalis)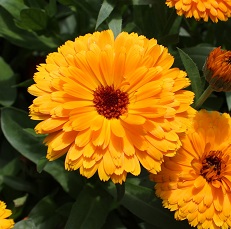 Calendula is a wonderful plant with medicinal benefits as well as being edible and delightful to find on the plate! Also often known as the Pot Marigold, although marigolds do actually belong to another family (Tagetes).
Growing: Bees and butterflies love these annual plants. They are really easy to grow, even in pots, and have many bright orange and yellow flowers that grow abundantly. They easily re seed if left to their own devices. They grow best in well drained soil with just enough water to keep the roots moist. Likes relatively cool temperatures, so if you live in the tropics they will flower best in the cooler months.
Colours: The usual colours are orange and yellow, although there are now many hybrids with varying colours.
Taste: Mildly peppery in flavour. As the green parts of the flower tend to be bitter, use only the petals.
Uses: Drop the little golden shards into salads, or add them to a pasta. Their slightly peppery flavour will enhance the taste as well as adding pops of colour. The little addition of the bright petals will make any standard looking dish look photo worthy and interesting.
Calendula has also been used for medicinal purposes for many years. It has anti-inflamatory, anti-fungal, anti-microbial and astringent properties which is used in healing salves and oils for skin complaints, sun burn and rashes.
Marigold (Tagetes patula)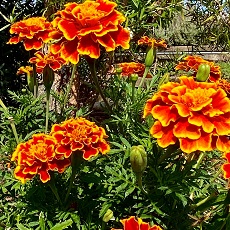 These variable and bright coloured marigolds are very common, as they are easy to grow and self seed themselves without being invited!
Growing: Plant in any sunny spot which has good draining soil. Will not tolerate cold conditions. Easy to grow and low maintenance. Dead heading encourages vigorous flowering.
Colours: Mainly orange, reds and yellow
Taste: The main part of the flower is bitter and unpleasant tasting, so pull the petals off to use. The marigold has a distinct aroma which adds a very subtle and interesting flavour when added to a savoury dish.
Uses: The striking colours vary between bright yellow, through to vibrant oranges and reds and makes a real statement on the plate. Add some petals to the top of stir fries, pastas and quiches on plating up where it will add a flamboyant touch and also add a subtle aromatic marigold aroma. The petals are great in salads, and the whole flower can be used as a vibrant garnish to meat platters, cheese boards and charcuturie boards..
The petals add a strong yellow colour to dishes during cooking and is often called the poor man's saffron. Dry marigold petal meal is often added to poultry feed to improve the yellow colour of the egg yolks!
Borage (Borago officinalis)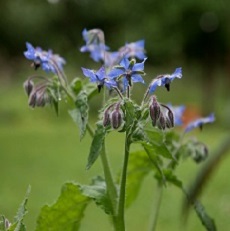 Borage, also known as Starflower for its beautiful, bright blue star flowers. It's a favourite plant for honey bees too!
Growing: Borage are annuals and easily grow from seed. They will also seed themselves if left. They like well drained, rich soil in a sunny position.
Colour: A beautiful electric blue colour. You can get pink borage flowers although these are younger flowers and turn a bright blue on maturation.
Taste: Borage tastes very much like cucumber and so enhances flavours, as well as looking jewellike as a garnish or decoration with it's electric blue hue.
Uses: The starlike flowers are perfect to add a dash of colour in salads, or to decorate a dessert. This flower is stunning floating in a glass of champagne, gin and tonic, lemonade or sparkling water. Also the colour is brilliant in ice cubes, although the bright blue will fade after a couple of days being frozen.
As an added bonus, this medicinal herb is the highest known plant source of gamma-linolenic acid. It is also a source of B vitamins and beta-carotene. It is used to reduce inflammation.
Nasturtium (Tropaeolum majus)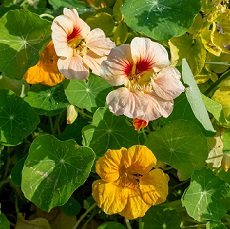 Nasturtiums are a very popular, and easily grown annual, and well known for its edible qualities. The entire plant is edible!
It's vibrant flowers have long stalks and funnel shaped blooms which range in colour from creamy white, right through bright orange to red. They bloom abundantly throughout the summer season and are showy and flamboyant.
Growing: Another easy to grow plant. They are relatively drought resistant although become very leggy and unkempt when dry. They will self seed and can ramble extensively, keeping out weeds. They make a good companion plant in vegetable gardens.
Colours: The most common is a beautiful bright orange with yellow centre. There are now many hybrid colours which come in attractive yellows and creamy pastel salmon colours.
Taste: The flavour is peppery and very similar to watercress to which it's closely related. This distinct taste enhances the flavour of salads, and any savoury dish or hors d'oeuvres
Uses: Because the flowers are so bright and showy, there is no end of opportunity to use them to really showcase a dish. It has such a positive impact on the visual experience. We all know about the great inclusion of nasturtiums to a salad. The leaves are a great alternative to rocket so give it a try in sandwiches and wraps. I have eaten it as a garnish to salmon, meat platters and pasta dishes with great success!
The seeds form little pods which you can use as a great little alternative to capers. They look and taste similar!
Cornflower (Centaurea cyanus)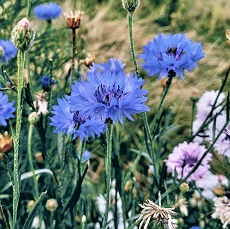 The Cornflower is an annual that produces many blooms even in conditions that are not ideal. The flowering season will go from spring, right through to summer.
Growing: Cornflower will grow in any reasonable garden soil, which is in the sun. In hotter climates it does well in part shade. Easily sown from seed.
Colours: The cornflower has stunning deep coloured blooms. Colours vary from blue and violet through to lavender and white.
Taste: The petals have a sweet spicy, clove like flavour. Before using the flowers, first remove the green sepals behind the flower and the white parts at the base of the petals as these parts can be bitter.
Uses: The petals are widely used as food confetti and is particularly effective if you have mixed colours. Mix them into spring rolls, or cream cheese for pops of colour. Or top a bowl of ice cream or a cup cake with a flourish of petal confetti.
There's no need to limit the use of these bright petals to only sweet dishes. Experiment also with stirfries and pasta dishes as the spicy, clove like flavour lends itself also to savoury dishes.
Cornflowers dry very easily, maintaining much of their colour and form. They can be also be pressed very effectively and used to decorate deep celebration cakes. Use the dried petals in biscuits, herbal teas or breakfast granola mixes.
Snapdragon (Antirrhinum majus)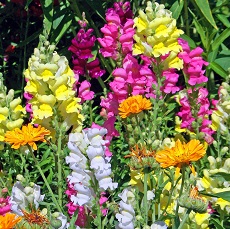 Snapdragons are very commonly grown in gardens, grow easily and abundantly, and have a wide variety of colours.
Growing: Need fertile soil with good drainage. Likes full sun.
Colours: "All the colours in the rainbow" as they say! There are a huge variety of snapdragons hybrids, with types ranging from traditional to frilly edged, in many many different colourways.
Taste: Snapdragons aren't blooms that are used for their flavour but they do make a dramatic garnish, and although edible, the flavour is either bland or quite bitter. The younger flowers on the spike are towards the top and these are the best to use.
Uses: 'Snaps' as they are commonly known, make beautiful garnishes for cup cakes and other sweet dishes. I find them wonderful decorative flowers, and are long lasting. Great as a decorative topping for desserts and cakes. They are effective fresh or freeze dried, although pressing isn't as good as they are a bulky flower which doesn't flatten well.
Crucifix Orchid (Epidendrum ibaguense)
Cosmos
Pinks
Columbine
Hibiscus
Verbena (Verbena x hybrida)
Honeysuckle
Fuschia
Impatiens (Busy Lizzies)
Pelargonium
Alyssum
Zinnia
Chamomile
Roses
Hollyhocks
Crocus
Dahlia
Echinacea
Fever few
Gladioli
Lavender
Stocks
Sunflowers
Nigella
Queens Anne Lace
Yarrow
Tulip
Forget me not
Freesia
Elderflower
Linaria
Banana Bell
Blu Butterfly Pea
Chicory
Ginger – galangal
Ginger – Torch
Society Garlic
Zucchini
Bouganvillea