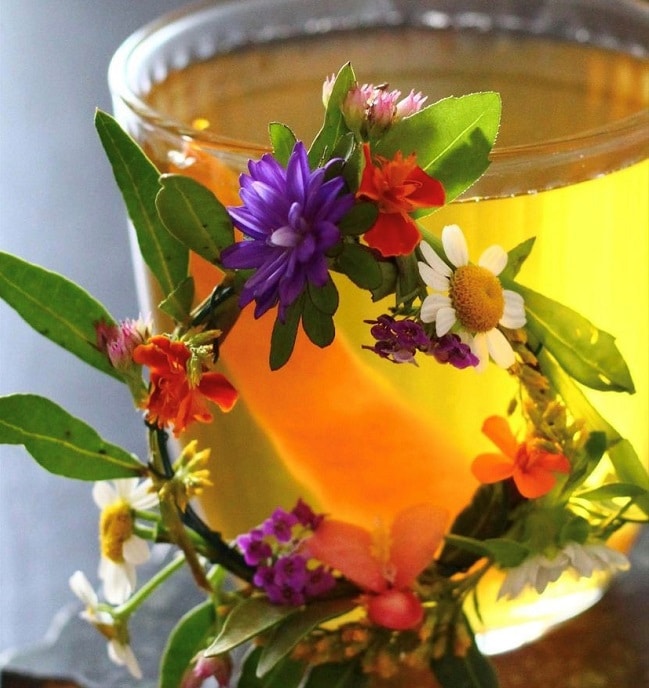 This article is going to give you details of a stunning White Negroni Cocktail recipe and highlighting Punit Thakur from @veermasterberlin and his expertise in using edible flowers for cocktails as an exquisite garnish.
What is a White Negroni Cocktail?
A White Negroni Cocktail is a version of the classic Negroni but is yellow in color and has a slightly less bitter taste. It also has stronger floral flavors with a hint of sweetness.
What's the Difference Between a Classic Negroni and a White Negroni?
The White Negroni is a twist on the classic Negroni Cocktail. It still has the sweet, bitter and spirit-based combination of the Classic Negroni but replaces a couple of the ingredients to make a lighter drink with a predominantly floral yet slightly bitter taste.
The classic Negroni is an Italian concoction and is mixed using deep red Campari and Red Vermouth. This gives it its well-known flaming red color. Gin is used as the main spirit ingredient.
The White Negroni version is yellow in color and replaces Campari with Suze which is a gentian based aperitif, and Lillet Blanc, a fortified wine instead of Vermouth.
This White Negronis Cocktail was developed in 2001 at Vinexpo in Bordeaux. There are many and varied White Negroni recipes, and the taste varies from boozy, dry, and herbaceous, to floral with bittersweet undertones.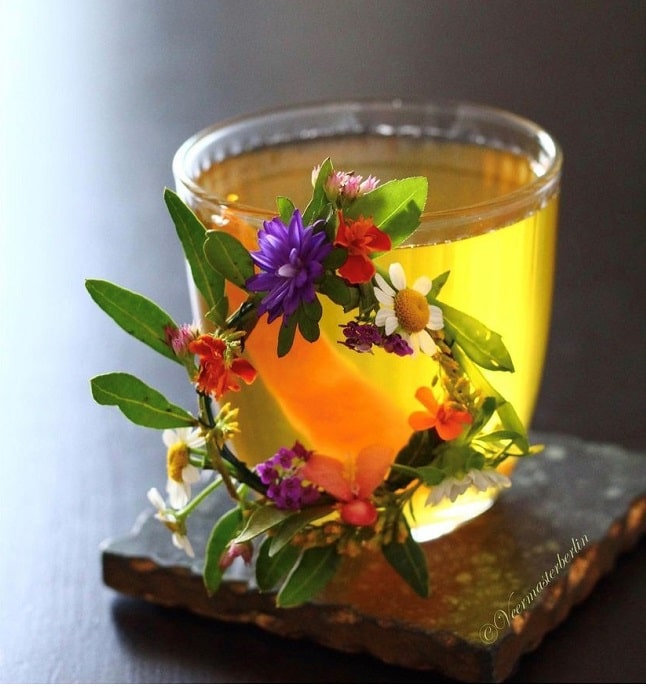 My favorite mixologist Punit Thakur from  @veermasterberlin has created this wonderful White Negroni cocktail recipe.
Check out also how he has decorated his creation with his signature edible flower cocktail garnish.
"To mix it up from the all-red feed lately – I have made a "White Negroni".
Don't ask me why it's called "White Negroni" when actually it's yellow!
What I know is, that the yellow color comes from Suze.
It's a like Campari ,an Aperitif-Bitter but French and made from the gentian root. It is a little bitter and a bit sweet, with some citrus flavor as well.
The "White Negroni" is a light cocktail, a bit floral like my garnish and still bitter. It's the perfect Negroni cocktail to start your weekend"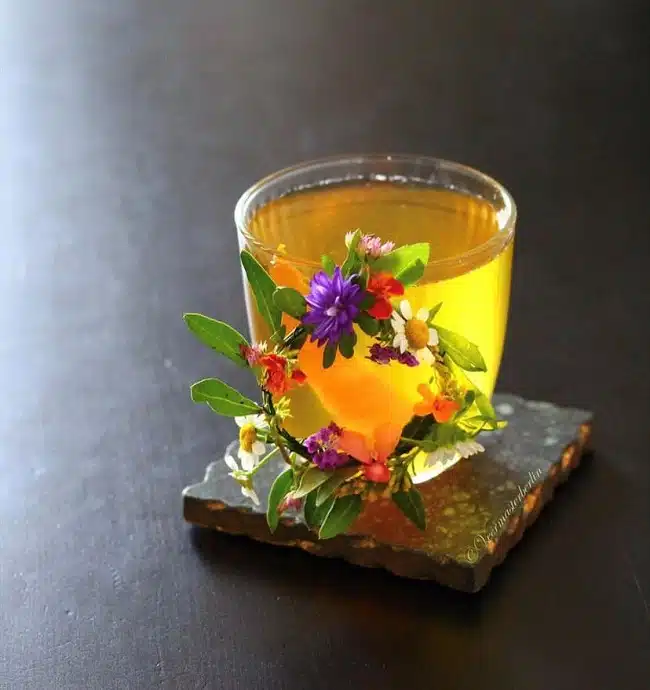 In a Mixing Pitcher
Add all of the ingredients
Add Ice
Stir nicely
Strain
Garnish and Serve
⠀
Garnish: Chamomile, Marigold, Apple Blossom Begonia, Aster and Orange zest.
Glassware:- From @depot_online Kiel
⠀
Try these other delicious and fabulous cocktails and mocktails created by Punit:
Suze (pronounced sooz) is a liqueur made from gentian root that grows in the mountains of Switzerland and France. It has a complex taste which makes it such an interesting ingredient to use, being earthy, bitter, and floral all at once!
Lillet Blanc is a fortified wine that is made from a mix of wine, botanical and marinated fruits, and spices. The resulting flavor is complex and has a bitter, yet fruity and floral notes which complement the overall palate of the White Negroni Cocktail.
What's The Best Gin for a White Negroni Cocktail?
The White Negroni has floral notes which come from the Suze ingredient, which is the gentian-based aperitif. So, to complement this flavor, any good quality gin with botanical components will resonate with the floral complexity of the cocktail.
Garnish Your White Negroni Cocktail with Edible Flowers
As a lover of edible flowers, you don't need to be convinced of the aesthetic appeal that these little beauties will add to your White Negroni Cocktail.
Being a light-yellow colour, this drink can be like a blank canvas for your edible flowers.
Punit as you can see above, has decorated the side of the glass with a wreath like edible flower garnish which he has glued on with edible glue.
He has used Apple Blossom Begonia, Chamomile, small Asters and Marigolds in his design and these all compliment the floral, yet slightly citrusy notes in the White Negroni Cocktail.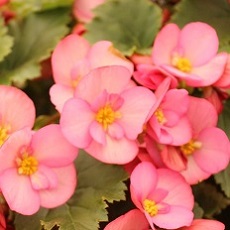 Apple Blossom Begonia
Apple Blossom Begonia is well known for its juicy, sour apple/lemony flavor.
Chamomile
Chamomile with its simple daisy-like look with white petals and yellow centre, creates opportunities for simple but elegant garnishes. The flavor is also akin to apples.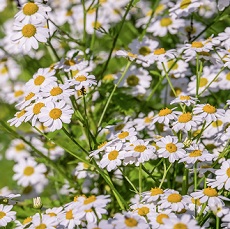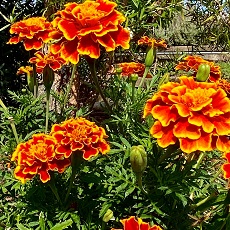 Marigolds
Marigolds would provide a contrast in this edible flower garnish, with its cheerful and colorful petals. The petals taste slightly bitter and spicy. Use the petals only as the centre part of the flower does not taste great! 
Aster
Asters have a slightly bitter taste too, but have a striking purple color which enhances the visual of this garnish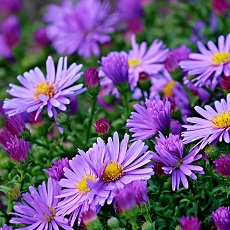 Other Edible Flowers that Compliment the White Negroni Cocktail
Other edible flowers such as lavender, violets or elderflower share similar floral notes and would also compliment this floral cocktail.
The addition of these flowers will harmonise with the subtle floral flavors of the Suze and Lillet Blanc and add depth to your cocktail.
Using edible flowers for cocktails is an intertwining of visual and tasting experience which makes the floral cocktail so much more memorable.
So, use your creativity with edible flower garnishes to produce a wonderfully decorated and memorable White Negroni Cocktail.
The Birth of the White Negroni
It was Wayne Collins, a bartender from the UK attending Vinexpo, who came up with the idea.
In a 'when in Rome' (or 'when in France') moment, he decided to use French ingredients to make his own version of the classic. By wandering through the liquor store, he kept gin as the base and substituted the Suze and Lillet Blanc for the other two traditional ingredients.
And voila! The White Negroni was born.
Now that you know how to make a White Negroni Cocktail, you might be interested in a little background info.
For instance, did you know that Negroni Week is celebrated worldwide each year? Traditionally celebrated in September, Negroni Week 2023 celebrations took place from 18 – 24 September.
Bars and restaurants around the world celebrate this unique cocktail and raise money for good causes. Negroni Week has raised more than $4 million for charitable causes.
The White Negroni Cocktail – Trendy or Classic?
You may think that trying a White Negroni is a trendy choice! But 20 years on, it has become more than trendy – it's a classic. It's grown from an interesting twist on a classic to a classic in its own right!
If you haven't tried one yet, it's time to give it a try – and of course, make it beautiful to the eyes, as well as beautiful to the taste buds, and add an edible flower garnish!