In this post I'm going to show you one of the most delightful and enchanting aspects of cake decorating – using edible flowers! Using edible flowers for cake decorating will transform your cakes from ordinary to extraordinary, so let's make some edible flower cupcakes!
It's fascinating how a touch of nature can make a world of difference. Edible flowers have the incredible power to turn plain cupcakes into edible works of art.
And it's so easy! Just pop some petals or small blooms onto the frosting and like tiny gardens your little cakes spring to life right on your plate.
I find that each petal is a brushstroke of joy and creativity, painting a picture of nature's wonders on my cakes.
Choosing the Best Edible Flowers for Cupcakes
Nature has become my partner in decorating cakes, that not only look stunning but also captures the essence of the joy that I get from flowers.
Most of the flowers I use come from my backyard, such as violas, crucifix orchids (many now describe these as micro-orchids), native violets, and gem marigolds. There are so many easy edible flowers to grow in your garden that you can choose from.
When it comes to decorating your cupcakes with edible flowers, the options are endless and there is no right or wrong in terms of how to decorate. However, it's important to choose the right blooms for the best results.
Best Flowers for Your Edible Flower Cupcakes
Here are some valuable pointers to help you in selecting the best flowers for your edible flower cupcakes.
If you don't have flowers that you have grown yourself, then make sure that the flowers you use are grown organically and are chemical-free. Be aware that supermarket flowers are grown for the vase and therefore are not necessarily food safe. Best to steer clear of them!


Also, be aware of poisonous flowers that are commonly found in our gardens and should never be used. I have seen pretty hydrangea florets decorating cakes – the baker obviously didn't know that hydrangeas contain small amounts of cyanide.


When it comes to cupcake decorating, size matters! While large flowers look charming in a bouquet, they won't work as well on cupcakes. Go for small edible flowers that can be beautifully arranged on your cupcakes for a delicate and enchanting touch.


Most edible flowers have mild flavors that won't overpower your cupcakes, but it's a good idea to taste-test them before using them. Be cautious of using savory-tasting flowers like herbs, alliums, or nasturtiums, as they might overpower your sweet treats.
Edible Wild Flowers for Cake Decorating
I have collected little edible wildflowers with my kids and put them on our cupcakes. These have included beautiful native violets and bright blue climbing dayflowers. So don't feel you have to stick to just pansies and violas!
Try it with kids – they love going out and picking some flowers to decorate their baking creations.
How To Decorate Cupcakes with Fresh Edible Flowers
If you don't feel like baking your own cupcakes from scratch, you can always use either a packet mix (which is very acceptable!) or even decorate shop-bought little cupcakes. The addition of a little flower makes a standard boring little cake look interesting and joyful.
And it doesn't matter if you haven't baked it! It will still look exquisite!
Here are some of my favorite ways to decorate cupcakes with fresh edible flowers.
a small cluster of little blooms: little flowers like violas, cucumber flowers and native violets are small enough not to crowd the top. Also, little tufts of sweet alyssum, verbena, or starlike florets of pentas look adorable. The sweet little flowers of begonia are particularly good, as they have a little crunch with a subtle lemony flavor.


A sprinkling of petals: pull the petals off larger flowers if they are a bit large for this project. A sprinkle of petals is like nature's confetti and looks so pretty. You can do this with zinnias, small roses, cornflowers (aka bachelor buttons), or asters.


A single flower: this can make a simple stunning statement especially if it's a flower like a magnificently colored fuchsia. Fuchsias have a beautiful shape, and many varieties have really eye-catching colors. A single little honeysuckle bloom or linaria would also have the same effect. They all have interesting shapes. A single, beautiful flower is enough to steal the spotlight!


Don't forget to include a little foliage: Add small edible leaves to give a beautiful contrast between the vivid colors of the flowers and the lush green leaves.


You can also use crystallized flowers instead of fresh flowers, for a slightly more sugary look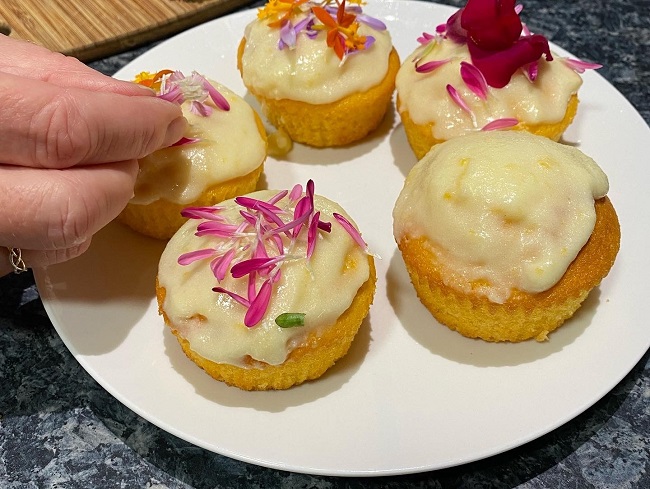 Edible Flower Cupcakes Recipe
If you're wanting to bake some cupcakes from scratch, here is a very simple sponge recipe. You can add other ingredients such as cocoa powder for a chocolate flavor, or orange or lemon zest for a citrus touch.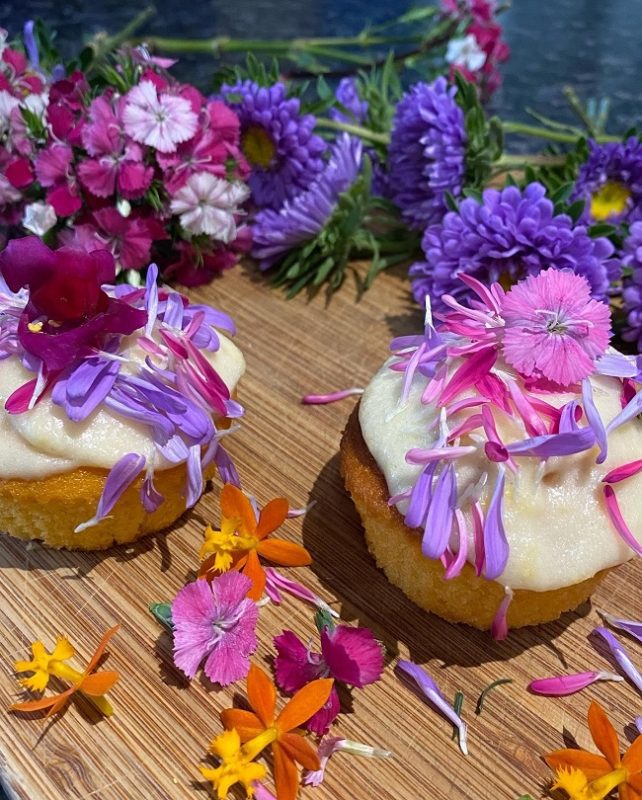 Ingredients:
1 ½ cup all-purpose flour
1 ½ tsp baking powder
½ cup unsalted and softened butter
¼ tsp salt
1 cup granulated sugar
2 large eggs
1 tsp vanilla extract
½ cup milk
Frosting of your choice (vanilla buttercream or cream cheese frosting work wonderfully)
Edible flowers for decoration
Method: 
Preheat your oven to 350°F (175°C) and cover your cupcake tin with paper liners.
Add flour, salt, and baking powder in a small bowl and mix.
Take another large bowl to beat the sugar and butter together until it makes a cream that is fluffy.
Beat in the eggs one by one, and then add the vanilla flavor.
Then, add the dry ingredients to the wet mixture, alternating with the milk, until it's well combined.
Divide the batter evenly among the cupcake liners, filling each cup about two-thirds full.
Bake for 15-18 minutes until firm and golden.
Let the cupcakes cool completely before frosting.
Now comes the part that I really enjoy doing!
Just decorate!
Even kids love doing it and it really is that simple!
Feel the Joy in Edible Flower Cupcakes
Let the joy and creativity of making your edible flower cupcakes bring a touch of elegance to your baking.
The possibilities are endless when it comes to decorating with edible flowers. From clusters of small flowers to delicate sprinkles of petals, each cupcake becomes a joyful canvas for anyone who loves flowers.
Don't be afraid to experiment with different edible flowers and decorating techniques to create stunning and delicious cupcakes that reflect your unique style. Trust me, each flower has its own story to tell, and every cupcake is a chance to showcase your creativity and love for flowers.
I hope your edible flower cupcakes will bring you and your family and friends as much joy as these floral treats bring to me.
Happy baking and happy decorating using your edible flowers for cake decorating.